Rock the Boat
August 4, 2009
I rocked the boat and now I'm drowning,
In tears that fall so fast
A never ending stream of pain,
That seems will always last.
I gave you everything I had,
I tried to give you more,
And now I'm left with nothing,
As I'm falling to the floor.
It's hard to believe it's over,
When I'm still breathing in air,
Because the room feels so empty,
When I know you won't be there.
And they say I'll learn a lesson,
And they say I'll be okay,
But for now I'll just sit here and wish,
The pain would go away.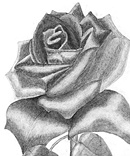 © Nghi L., Phoenix, AZ