Beautiful Shadows
August 6, 2009
The tree's leaves,
glide to the ground
and whisper against my face.
A blur of green.
Above the white bird's sing,
And the blue bird's
spread their wings.
Water falls so gently,
but very quickly.
Cool wetness melts into my face.
My hair floats behind me
in the forever lasting breeze.
A smile visits my face.
A brightness just for my eyes.
All my worries-
vanishes to the shadows,
Allowing the beauty to grow.
I've lost myself-
to the sound of falling water-
the soft drips and trickles,
and branches swishing all around.
Then there's that soft inkling,
A sound that fits so lovingly.
It comes in more and more..
A voice,
a voice I know..
The beat of my heart speeds,
and it's like a race.
But every movement's stopped.
Except mine.
I come too-
In a place I try to escape.
But when my eyes focus-
It's like I'm in another calmness.
Tension leaves my body,
and I relax.
Until I see his face.
And then her's,
And then his.
And once again,
I'm being chased.
Chased by the life I follow.
Chased by the pain I face-
and the pain i know to come.
Chased by my own life,
and my own mind.
Because you can't escape
what's deep in your mind.
You can run,
but you can't hide.
Not forever.
And as they shake me-
I slowly start to go back,
Into those beautiful shadows.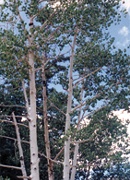 © Bethany D., Philadelphia, PA