I Let Myself
July 13, 2009
Sometimes I think I'm going crazy. Sometimes I see
things that can't possibly exist (like you and me – together)
and I find myself reluctant to erase the hallucination.
I let myself dream until my dreams betray me.

I've always been so terrified of death. With you as
my life support, I let myself forget how to breathe.
I'm more comfortable this way, but being unable to
receive fresh strength from the world, I will surely
choke on carbon dioxygenated grief should you leave.

I'm hooked on drugs that don't harm yet are so
dangerously addictive, and on a smile that never fails
to sway me. I gave you my hand, then let myself be
led by your light down a precarious path of emotional
risk and mental fulfillment.

Metaphors are usually exaggerated, but this time I truly
feel like doing something drastic, just to see how you
would react. Yet the most shocking and unexpected thing
I could do is already done: I let myself fall in love with you,
and now I'm letting the doors of sanity close behind
my worn-out, dependent self.

I sit back and while I watch my life run its course, I let my
inkless pen continue scribbling in the dark of sleepless nights.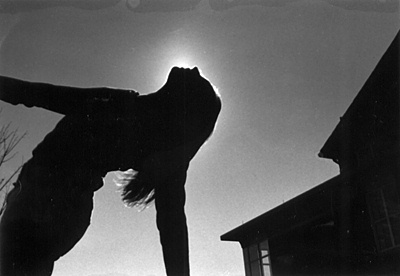 © Alexandra B., Marblehead, MA