Through The Eyes Of A Child
December 10, 2018
Childhood laughter rings through ears,
Vivid colors filled those years,
Playing with my friends and countless toys,
A childhood that everyone deserves,
A childhood which was soon to be destroyed

One day, a sight brought wonder,
Long silver pipe flies,
Racing through the empty sky,
Burning hot red coming from under,
I would try to ask, I would only get lies,

People running with bizarre masks,
Immense green gas follows from behind,
Why the masks? What is happening?
Mother tries to calm me, "Go to sleep"

When the man comes on the rectangular screen,
All I do is ask, but she acts like she can't hear,
Responding gently, mother says, "Don't worry we're safe in here"

The crying of agony in the distance,
Pitch-black darkness fills the night,
Shattered hearts fill the streets,
I wanted to help, but we don't have time

How much I would give,
To get those innocent times back,
Vivid colors, play dates and all of that,
Mother tried her best to keep me safe and sound,
Mother disappeared, nowhere to be found

Rocking back and forth on an empty street,
Everything abandoned, deserted, left behind,
None of this is right, humans are too blind,
Too blind to see, our destroyed state of mind

7th birthday marks today,
The gift I get is another day,
Dark, grey smoke fills the sky,
A big bang thunders nearby

My red-blood eyes close slowly,
The noises make me quiver,
The shattered memories drift away,
I ignore them with my eyes closed,
There's nothing I can do but pray,
I try to wait for whatever will happen…

I find myself in a place of bright light,
Emerald green grass stands below,
Fear and grief, I left behind,
The pain and suffering vanishes from my body,
Peace and harmony enters my mind,
Mother approaches and to her I go.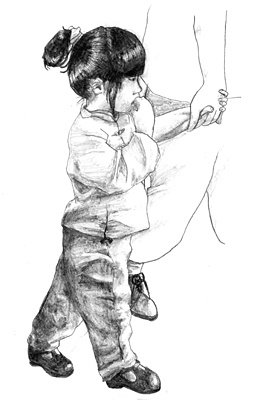 © Laura K., Kendall Park, NJ