What This World Has Come To
January 23, 2015
What has this world come to? Are we really down to this? To a society that's so stuck to their ways that they refuse to make plans for a next generation? I'm tired of everywhere I go being told, "No!" Because I'm too young, too dumb to decide for myself and know what I really want. Well let me tell you as of right now I can see the future and I know what it is going to hold for my people. Because of your selfishness you are going to kill us. I see death, war, famine, and disease because of your refusal to see the truth. We are slowly fading.

In the book of Revelation the bible tells us of what is to come. I think it's time that we had a revolution and started pulling people out of the fire instead of condemning them to it for all eternity. Our fate is not decided by man but really what relies in our hearts. I have gotten so tired of seeing believers proclaim Christ with their lips yet deny a fellow brother the chance to know joy in their hearts. We are all hypocrites and not one person has the right to tell somebody what they are and where they are going to end up. We live in a generation of liars

The only true separation between theist and atheist is the absence of a true God in their life. And I am getting so sick of hearing this idea of "universalism" where "One size fits all" because at the day it doesn't. The only true way to get to heaven is to know Christ as your savior and friend. See we think that all we have to do is to attempt to live a perfect life to get to heaven, but the bible makes it real clear that we have all sinned and fallen short of Gods glory and that nobody can get to heaven but through Christ Jesus. We are all broken.

Sometimes I just lay in the bed at night and ask, "God why don't you just do something to this cold and broken world that needs to be shown the right path?" It is in these moments that God tells me that he never left us and he tells me how he is there through every moment and trial. It's not that he is abandoning us it's that he is trying to open our eyes to the things that we have caused. Not to make us feel guilty, but so that our hearts would break for the broken, give to the needy, and give love to the heartless. You see it's not that we are so bad it's that God is so good. He is the only thing we can depend on.

I close this out with saying that Jesus loves you and if you don't know that then I suggest you read Isaiah 53:5 where it says that Christ loved us so much that he was pierced for our transgressions and he was crushed for our sins. You see God could have turned his back on us entirely, but God is an artist and when he made you and me he said, "I'm going to keep this piece not because of how perfect and beautiful it is, but because I made it with and for a purpose." God put something in you that only you have. If you do not know Christ I highly encourage you to meet him because it will take you on the biggest adventure of your life. God bless.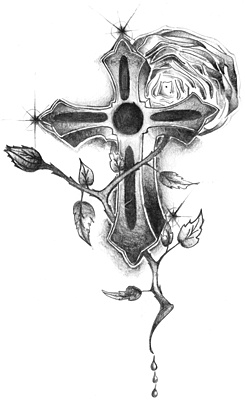 © Ricky P., Natchitoches, LA