Interfaith Marriage
January 8, 2011
Interfaith marriages are prominent throughout the world, whether it is a Christian/Jewish marriage, a Buddhist/Hindu marriage, or any other blend of two different faiths. In an interfaith marriage, divergent religions join together and create a family; both parents put in their doses of what they grew up with and traditions they are accustomed to. This kind of marriage develops a lifestyle where it is allowed, and even encouraged, to speak one's mind and explore other beliefs. It creates a warm, flexible environment where change and discussion is welcomed. Interfaith marriage can lead to a greater understanding among religions and an enriched family life.
By bringing both cultures into the family, a couple that consists of two different faiths can better educate children and each other on the different aspects of each religion. When one of the spouses in an interfaith marriage is not as religious, the marriage is more likely to survive than when both are extremely observant (www.religioustolerance.com). This allows room for the children to explore their own beliefs, without the parents disagreeing over what they each believe to be the truth. From their own upbringings, both parents can teach the children about their beliefs based on what they grew up with (www.religioustolerance.com). This gives the children a more expansive understanding about two different religions, therefore augmenting their knowledge about the world around them. Children in a single-faith marriage grow up in a household that teaches one specific belief, rather than exploring different customs (www. dlerner01.typepad.com). In an interfaith marriage, children become aware of different cultures early on and are more likely to tolerate other religions.
A family that is formed by two different faiths creates a fulfilling atmosphere and a strong base to build family values. Because most religions do not celebrate the same holidays, there is not any conflict around whose side of the family to visit. For example, in a Christian/Jewish marriage, the Hanukkah and Christmas celebrations are observed on separate days (www.dlerner01.typepad.com). As a result, the amount of arguing is decreased, creating a more pleasant and stable place for everyone. When two spouses from different faiths decide to bring their children up a certain way, they make a commitment to each other and to their sons and daughters. The determination and will to change in order to compromise has the power to unite a family and bring them closer. Additionally, early on, the couple must decide which traditions to continue and how to deal with the aspects of church and holidays (www.interfaithfamily.com). This strengthens the couple, teaching them how to adjust to family life, and how to meet halfway in a tough situation.
Because of the contrasting faiths, some say that interfaith marriages are more likely to lead to divorce and conflict within the family. However, due to the mixture of traditions and cultures, everyone in the family becomes more knowledgeable about other religions in the world. Furthermore, the couple becomes better acquainted with each other's past, allowing each to know more about the other's background. A family that consists of a single-faith marriage solely depends on their own religion. Consequently, the children are more likely to become defined by their religion, rather than branching out and accepting the beliefs of others.
Within an interfaith marriage, freedom of speech and belief is encouraged. But more than encouraged, the ability to speak one's mind is essential for the marriage and family to remain healthy. The whole idea of an interfaith marriage is two people, who have fallen in love, working together to form a family that consists of both backgrounds. If the family is not loose and welcoming to other religions, the point of compromise is futile. Interfaith marriage delivers a message that challenges popular beliefs that religion is the most important thing. Sometimes love steps in and distracts the couple. Sometimes love demands a compromise. A compromise that introduces a world filled with exciting unknowns. A compromise called interfaith marriage.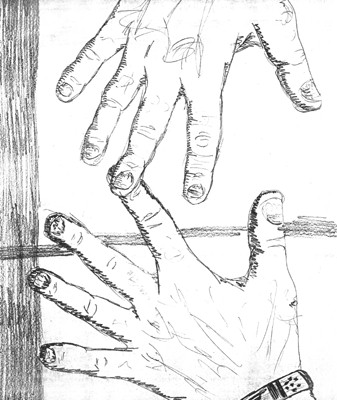 © Katie T., Hull, MA