The Pyramids
MAG
November 11, 2009
The mound builders built mounds for which to bury their dead
so that they might be closer to the heavens.

The ancient Egyptians built pyramids
that reach into the sky
as a symbol of power and of remembrance.

We bury our dead deep beneath the ground
under clumps of dirt and tears
cemented together to cover the open wound.
We bury their bodies
and our memories.
They look beautiful smeared onto our faces
tie-dyed with splotches of red
that trickle downward to create a blurry image
of the past and of the present,
but never of the future.
As the clouds move slowly across the sky
(the sky that is still blue)
We move on.

There is an empty house on the outskirts of town,
an empty stall in an echoing barn.
The emptiness has a volume, a density, far greater
than that of actual presence.
While we dig farther down,
(like one covering their tracks)
filling the world with holes and gravestones:
The Pyramids still stand.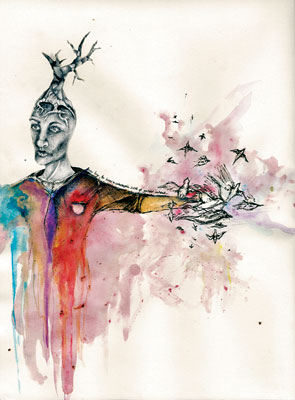 © Alice B., Sarasota, FL