The Ugly Revolution
May 22, 2013
How many times have we looked in the mirror and despised the fact that the arch of our nose doesn't mirror that of Keira Knightley's. The whole society today is based on your physical appearance. John Gay (1685-1732) in his poem 'To a Lady on Her Passion for Old China' wrote about the obsession of people for a woman's so called beauty. For years, now not only women, but also men have been characterized on the basis of their looks. This despicable trend has been followed by the fashion industry. It's heartbreaking to see that they proudly say that they have included some 'plus size models' in their shows to promote all looks. Girls of all ages strive to become carbon copies of models. Bizarre trends like wanting a 'thigh gap' to eating only paper have come up from this exercise. New milestones are set up when the old ones get common. I remember a day when waxing was an esoteric practice, but now? How can anyone not wax? Young boys showing of their glistening chests, taking pains which are really unnecessary.
One of the weirdest things in the world right now are the beauty contests. They objectify women like none other thing possibly can. With the bikini rounds and ramp walks, they paint a picture of a perfect woman, a bar everyone should reach. Women are judged as if they are plastic dolls. Recently I read in an article that employers are most likely to hire people who do not have split ends. It basically means they would rather have an employee who is a regular in a salon rather than their office desk. This whole drama has sometimes been given the name of personal hygiene or health issues which is totally rubbish. Nobody ever died of being a size 14. The unreal dreams of little girls to be paper thin should be curbed. Some people are naturally very thin due to higher rate of their metabolic system. Shallow is what we can call the values we are giving to our children. No one should ever be judged on how they look and they should certainly not be given a hard time.
I call for an 'Ugly Revolution' where we celebrate the stereotypical ugliness in which hairiness and moles are in. There's a popular anecdote saying 'Home is a place where I can look ugly and enjoy it'. Imagine that you could be as comfortable outside too, for the world is our vicarious home. Every human being is a beautiful piece of artwork, there is so much more to look at other than what canvas it was painted on.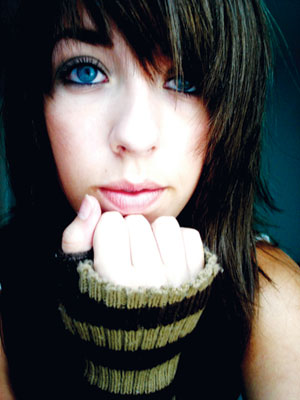 © Brit H., Peabody, MA