The New Techstament
MAG
January 17, 2013
h, my,
how times have changed
computerized communication
and TV deities, so
many bowing down
to that silly commercial
kissing the feet of the
faceless marketer who
will never know
your face
and certainly
doesn't want to
pray to the programs
that peel away reality,
these days are too routine
that 9 to 5 is getting old
and school is soooo boring

the next dictator in our decade is
a walking flat screen.
hypnotize every person, one
by one, one commercial,
one advertisement,
one piece of pious propaganda
at a time

nail reality down so it knows
its place – fragile like lace,
so simple to tread on,
and so easy to poke holes through!
cover its flaws with technology's
divine diversions
crucify the trees, the blossoms,
the ever-scalding sun
the emerald grass,
the Khyber Pass, for the
sake of everyone

Oh, my,
how times have changed
must we sacrifice our own eyes
the purest version of "high definition"
for a box of watts and wires?
After whipping waters and
ruthless fires, what will still stand?
That now-imperative power-grid
or the diamond pillars of veracity?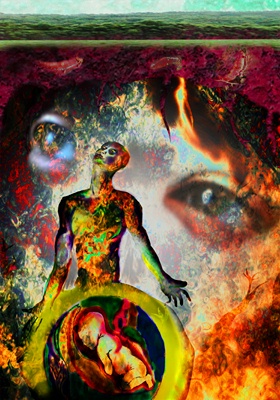 © Tom M., Philadelphia, PA