I Wonder: Can I Fit Into Those Jeans?
November 24, 2010
Now when you're thinking to yourself about if you csn fit in those jeans, what comes to mind. Now I myself have asked this question many times but to diffrent people it means diffrent things. So this is what I have come to figure, from a males point of view. When saying can I fit in those jeans doesnt mean I wonder if this is my size. It is a simple sexual meaning that means I wonder if I can get it. Now I have come to notice that most guys think this. Because they do not care whatever size their pants are but if there is enough room for him to squeeze into some young girls jeans. They only care about how tight the jeans are and how it makes some girls butt look nice and round. I have also noticed that guys like to walk behind you and watch you walk. Now I have a really cool guy friend that ism't that way. He likes to see a pretty girl walk by sometimes but never seems to think about fitting in those jeans. So what he is thinking when someone says "can I fit in those jeans" is laughter because that person doesnt know what size their pants are. Now it occured to me that yes this is pretty unusual but it proves that not all guys thimk sexually. And because the saying "can I fit in those jeans" isn't ment to be sexual I would like to know why people think like this.
Now it occured to me that females also have an entirely diffrent view. To females this saying doesn't mean I wonder if this is my size also. It simply means am I to fat. Females often think my legs are too fat, my butt is too flat, my legs are too long or short. Just chill. Now girls I don't know why you think this because thick is the style now anyways. Now to me people who costantly find something wrong with their bodies or are never satisfied with the way they look
have problems. Don't get me wrong alot of my friends have problems as you have read earlier. Now I know this girl who also thinks something diffrent. What she thinks when she says "can I fit in those jeans" is seeing a cute pair of jeans and wondering if they have them in her size. Now this proves that not all females are psycotic.
This also proves that everyone has a diffrent view of a couple of words that to me mean, I wonder if this is my size. But when I hear these words what comes to my mind is the song "In those jeans" by Ginuwine. Which by the way is extremely sexual. See the world is viewed by many curious and wierd minds. I hope no one takes this offensive because I was just wondering can I fit in those jeans. So let me know, can you?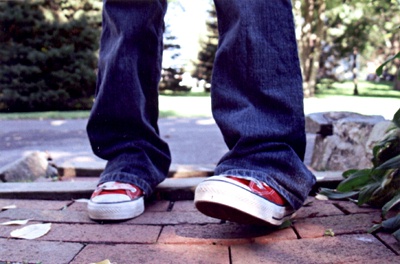 © Sara M., Milford, CT