Since When Does Size Matter?
May 19, 2009
Summer vacation. A time for every teen to sit back, relax, and enjoy the pureness of the world without teachers. You may find some teens sitting at home playing video games, watching TV., trying to get all that smartness gunk out of their heads, but there are others who are out trying to soak up all the sun they can.

Girls are crowding into stores for the hottest bikinis, tankinis, and summer clothes. Short shorts, mini skirts, push up bras, and spaghetti straps are bought by the tons. Most girls are out on the beach every day trying to get some hot life guard's attention. Boys stop and stare. Why? You may ask, well, every teenage girl is wearing a swimming suit that barely gives any room for imagination.

There is barely any beach or pool without teeny tiny little bikinis. This generation has shown more skin than any other. They feel that size matters. Show more, get more guys. Easy huh? Not so much. As the fabric used to make clothes decreases, the price increases. Little scraps of material are all that's left of what used to be a one piece. Shorts that barely cover more than underwear are selling for loads of money. Now honestly, if your going to pay so much to cover so little than why bother? If you really want to show off what you have than why don't you just go around naked? I doubt anyone would notice the difference.

Maybe I should bring to your attention that more and more woman are getting breast implants. What's up with that? Yeah, they want em' bigger. Bigger is best, right? The more you have, the more you can show, right? Wrong. Let me remind you that breasts aren't just for showing off, the reason girls have them is so someday they'll be able to nurse a baby. So why do we show them off with our itsy bitsy bikinis? Because someone decided that how big or small they were actually meant something. Meant you were more pretty, sexier.

So many people have been blinded by this belief. Celebrities pound this in our brains with every magazine we look at. When everyone around us is saying, "This is right! Biggest is best!" It's hard to see anything else but that. Girls always want to be pretty, so when they see celebrities wearing barely any clothes and getting breast implants they think the only way they'll be liked is if the do that. And so the cycle continues.

It seems to me that there are only two sizes of clothes for girls these days. Small and extra small. Making sizes to fit more than the super skinny girls seems non-existent. Can't we all embrace that we all have different bodies? Do we have to be that perfect picture on the front of a magazine?

So ladies, take this into consideration next time your buying your summer bathing suit, do you really need to show off quite so much? To every one of you, you are perfect as you are and clothes, size, and styles should not make a difference no matter what other girls show or tell you.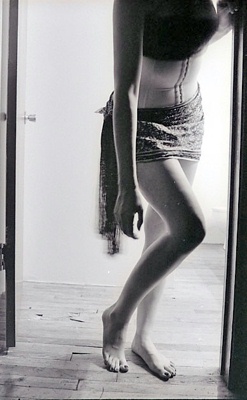 © Alexandra K., Chicago, IL