THH: Hear Ye, Disney Princes and Princesses
March 13, 2015
For the longest time, I wanted to be Aurora. Princess Aurora, or Briar Rose.
She had long golden hair. She had these lovely violet eyes. She could sing (and to animals!). And best of all, she was woken from a deathly enchantment from a kiss, which led to true love, which unfortunately led to the end of the movie.
A classic. I scorned my sister's then favorite of Cinderella for all the right reasons.
As time went on, a disturbing crisis came to mind: what if Princess Aurora hadn't been woken by that kiss? Would she have truly slept for all eternity? What if Philip had proved false, and left Aurora condemned?
But Aurora had been awoken. She had not slept for all eternity. Prince Philip had returned. He was also very handsome. So I reassured myself.
Still, my fears were exponential, and gained power as I entered middle school. My picturesque view of fairytale romance was squashed under the weight of unhygienic social traditions. And each of my crushes faded a little as I was unable to fit the mold of expectation onto those poor boys.
Fortunately, I still had the last century of Disney magic to explore. Ariel was wonderful to watch, and I envisioned we would be fantastic mermaids together; Belle was all right (and it is just recently I have grown more fond over her story); Jasmine was absolutely dazzling; Pocahontas was an especial favorite, magnificent as well as mighty; Mulan was great, though she looked too much like me; Tiana was down to earth, and I loved it.
Then, of course, the latest Disney masterpieces. Rapunzel was fresh, lively, and made me want to grow out my hair; Merida was outstandingly feisty; Anna was my spirit animal, especially in the winter; and Elsa was just grand.
It serves to say looking back on Aurora made me stop and think.
I was shocked, watching my old views disintegrate into the Big Picture. Was what people were saying on the web true? Did ALL media promote that a woman needs a man to live Happily Ever After?
See, I was (and still am) discovering feminism, gender equality fighting to end gender inequality, and, as mentioned, my own radical notion of True Romance. Conflicted, I refused to believe our society is stagnated enough to portray women as inferior pawns; there is too much evidence that points the other direction.
Is it so hard to believe some of those Disney princesses had just fallen in love?
And that's it?
Sure, I won't bend facts. The Original Trio, Snow White, Cinderella, and Sleeping Beauty, do belong to an older age wherein the classical maiden is a little more than naïve.
But Disney has evolved. And these are also facts; Mulan does not join the Chinese army to get a boyfriend. Tiana does not cook because she is a woman (she simply loves to cook). Merida never even ends up with a concrete amour by the time the credits roll. And Anna 'died' for her sister Elsa. Not for Kristoff, nor Hans.
And people yet push on to say I'm missing the other big point: Disney teaches our daughters to sacrifice everything for a man. True, it might seem that way. For example, many complain Ariel gave up her family and the world of underwater for Eric. Specifically, the gamble she could get him, The Man, to love her back in three days.
And so let me make a revision to the earlier statement—Disney teaches us to sacrifice everything for love. Love is universal. It does not define by boy or girl, woman or man. Parents would sacrifice everything for their children; spouses would sacrifice everything for each other. I would sacrifice everything and anything for my sister. It is that message that is woven into every tier of every movie Disney has ever produced. In every single one, it shows love crossing the boundaries of family, friends, and non-blood-related loves, again and again, forming a delicate ecosystem.
In other words: it is not intellectually insulting Disney princesses end up happily ever after in love. It is simply heartwarming. So sit back and enjoy the movie.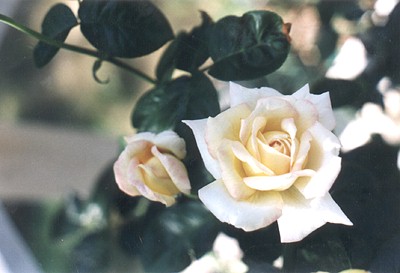 © Jacqueline S., Hanover, MA