Escape This Fate
November 12, 2009
Escape The Fate has been one of my favorite bands for a while now. That was until I realized they had a new singer and had replaced Ronnie Radke, one of the most poetic singers I've ever heard, by lesser singer by the name of Craig Mabbitt.

Although Mabbitt is somewhat talented in my opinion, he'll never get to my heart like Radke can. His heartfelt lyrics always seem to have me singing along without noticing. Unlike Craig's bitter lyrics, Ronnie has gone through enough with his long time friend, Max, to write lyrics that are from the heart.

Radke is prison presently and Craig has taken Ronnie's place as ETF's singer from now on. Ronnie has come back with avengence though. He has started a new band by the name of Falling In Reverse. Their latest song is titled "Listen Up" and althought it was recorded when Ronnie was 18, it still has a meaning towards his ex-bandmates. Ronnie feels deep remorse for what he did to end up in prison, and Craig continues to trash-talk him as he sits in jail and awaits the day that he finally gets to leave.

I'm not here to rant about Craig and his imperfection or about Ronnie being somewhat better than him, but I am here to voice my opinion. Maxwell Green, bass player for ETF currently, has been Ronnie's best friend for life and it's sad to see that friendship be split apart. Max has said some cruel things on stage like Craig has, but maybe not as often. I'm sure that the moment when Ronnie get's out of jail and Max see him, things will be resolved.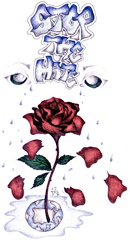 © Diana G., Phoenix, AZ