Racial Diversity on TV
June 3, 2017
Does having racial diversity really matter on our TV screens? From the early years of television, a special form of media has shaped the way viewers response to other cultures from ratings to popularity, this bright screen might have been portraying multiculturalism in our American society inaccurately for the past decades. Nowadays, white sitcoms are still presented on mainstream channels like NBC, ABC, CBS while shows with minorities are presented on newer networks like UPN and the WB. So, maybe we are lacking some Latino, Asian and African American representation, but does that necessarily still have to bother or affect us viewers? Some may say that people of color have their own channels like Black Entertainment, and are often the sidekick to the white protagonist, both some petty excuses to avoid discussing the topic. This urge to promote diversity is not to fight for superiority or take over television but a matter of social justice and better cultural norms that our youth can benefit from.
I am known to be blind to race. Due to being a race deemed as privileged, I usually don't pay much attention to the actors until it hit me. The shows I have been watching are mainly made up of white actors unless you're talking about Grey's Anatomy or How to Get Away with Murder that actually are diverse due to directors like, Shonda Rhimes being African American. If you look upon the history behind black actors actually being on TV, the first mainly controversial show was known as Amos n Andy. Created in 1952, was an African American TV show meant to show all manners of the black life in Harlem. On the other hand, "it was mostly based on racial stereotypes which are seen harmful today", states VanDerWerff, in the article "Amos 'N' Andy was the rare representation". So, not only is there a lack of black actors on white dominating TV shows but, the harsh stereotypes given on black shows promote violence like Love and Hip Hop, a reality TV show in Atlanta, Georgia that documents the relationships between hip hop and R&B musicians. By proving that a show that aired in 2011 has shown no progress in black culture, we have been been letting these white directors who can care less about the negative ideals of black life and culture diminish them for decades.

Even when taking Amos n Andy and comparing it to Love and Hip Hop we have caused the offspring of a national movement aiming to stop blacks and whites from working together in a caucasian dominated industry. Writers like Dancy D. in the article "Black Sitcoms: Recasting Stereotypes" pointed out that when, "..integration became law in the mid 1950's, it put small black theaters out of business, ending the production of diversity in movies." Unfortunately, that was taken advantage of when white actors started depicting African Americans known as blaxploitation and "black-face scenes" (white actors with black paint all over their face). Although we do not have explicit portrayal of "black-face" today, we still have explicit portrayal of not enough black characters on shows. We have fought for civil rights and equality, but is there more to be done than just police brutality? Even with high-debut shows being released, we are being brainwashed to fail to notice the regression occurring with a so-called "progressive, diversive society".

Now yes, you can go on complaining about how I'm constantly saying that "minorities are underrepresented in shows and are given stereotypes." But what is the actual reason behind this? You see humans lie. We greet with gentle nods and graceful smiles but, one thing I know is that numbers don't lie because they aren't build for survival of the fittest. In the recent times,"for the 2011-2012 TV season, approximately 15% of the writers were minorities", according to Keith Nelson Jr.'s "Study Shows Lack Of Racial and Gender Diversity Among Writers". From the idea that comes upon this article, I'm pretty sure that since 85% of writers in the film industry are not minorities, they basically rule majority which the word "too white" suggests. All that repeats in my head is, "Hey did you know that 85% of the shows or movies you have watched were made of white people that don't understand minority struggles as much as minorities do!" Not shocked though because history repeats itself.
Some people may say that television isn't defined upon race. It is just by who plays the best part. Why should you care anyways? Even though I am not a person of color, I should care anyways because America's future is reflected upon our youth that uses media of all sorts. Our youth is not only white. Our youth is people of all races, genders and sexualities. If you're saying that someone just "can't play the part right" we are telling our children of color that no, they can't grow up being what they want because "what they want" is given to a race higher than theirs. Through shows like Dance Moms, Modern Family, and Real Housewives which are mainly white, we are setting up standards of what a talented and beautiful person looks like promoting to be just like them, not realizing that their beauty is equivalent. This isn't 1960 anymore, wake up before it ends up looking like it. If America claims to be this "melting pot", how about you show it instead of just recycling your actors of color.
Society has transformed from watching black-white television to basic white television. But are we really still going to ponder that minorities aren't represented? Well, this lack of diversity has been rightfully challenged, usually mostly by minorities themselves that feel touched upon their culture being seen in one or two shows. That's why it is significant that a celebrity speaks out because they have a larger influence and output towards society. There has been America Ferrera and Eva Longoria at the Golden Globe Awards hilariously joking about the fact that Hollywood sees Latina actresses as the same person. There has been Oscar Isaac, a Guatemalan actor who plays Poe Dameron in the recent Star Wars film, talking about diversity in his backstage speech at the Golden Globes as well. There has been Aziz Ansari who comically addressed the issue of diversity within Asian actors. There has been hashtags breaking out like #OscarSoWhite which trended and many stars joined in to point out this lack of multiculturalism. This list goes on with numerous celebrities that are using their fame to discuss the taboo topic of race and representation.

Minority actors aren't just props. They are people who deserve screen time and a developed character. Jimmy Kimmel once stated, " Now there's almost too much diversity in this show," in which was obviously a joke but a joke that revealed the ugly truth. People may complain that we are too "involved" in this diversity crap and that sooner or later whites will become the minority. Just like Neille Andreva in the article, "Pilots 2015: The Year of Ethnic Castings--About Time or too Much of a Good Thing", suggests that, "Instead of opening the field for actors of any race to compete for any role in a color-blind manner, there has been a significant number of parts off-limits for Caucasian actors." In a still currently segregated place like here, I doubt for white privilege will ever fall. And what's wrong with having the culture of the shows character actually and finally represented instead of giving it to another white person who can't relate? Victoria Mahoney, a black director involved in Greys Anatomy, Queen Sugar and Survivor's Remorse says that "Certain people in the industry believe things have changed and everything's fine. The outliers, we don't understand what the party is about." By having white people mostly in charge in the film industry, they do not have any issues with diversity because their race is present and can't connect to feeling left out due to the color of their skin.

Consider something like ABC's American Housewife, a new comedy from the network that brought us Black-ish and Fresh Off the Boat. This show focuses on a white suburban woman (played by Katy Mixon) whose two best friends are a black lesbian (played by Carly Hughes) and an Asian American (played by Ali Wong) that spent most of their time in the pilot making the white suburban woman feel less self-conscious about her weight. "You have a great ass ... like a couple of ripe cantaloupes," Wong quips.Then there is CBS's The Great Indoors, a group of diverse millennials that get chided by their white boss for being too "sheltered". Progress? Of course if you compare this to the 1960's. But is this enough progress for our time? Nope. What we are establishing is still a white dominating leader treating the minorities like pets that have to go play fetch or make them feel better about their insecurities. Now you might say, "Fix it by adding more minority writers." Yet, that has miserably failed for the recent time with writers like Wendy Calhoun a black producer for Empire and Nashville that stated, "They tried to hire at least one "non white" writer. But you need at least 3 to start a conversation." As seen, having at least one "non white" writer would give them a small voice because the "white" writers are still dominating. Not only this but, that is a form of tokenism which is when the environment of lone staffers speak on the behalf of numerous ethnic groups or races. The film industry is basically a haven for dictatorship which people still seem to enjoy!

Displaying multiculturalism on screen is a way much more realistic approach to the real world that can finally disarm itself from being too white. By letting unity serve as a new norm for upcoming generations to witness and learn from, we are setting new standards in how TV and the media in general should look like. Even though time has gone by and some color barriers have been tore down we have to think about if is still enough in a society that is supposed to be so progressive and given us civil rights. It takes teamwork to keep this industry going, so everyone has to go past what's comfortable. Here's an idea, instead of thinking that people of color are actually "infesting" Hollywood due to one minority per show being enough to consider something "diverse"; let's disabuse ourselves of these notions and realize that you are the one infesting America's future with white supremacy.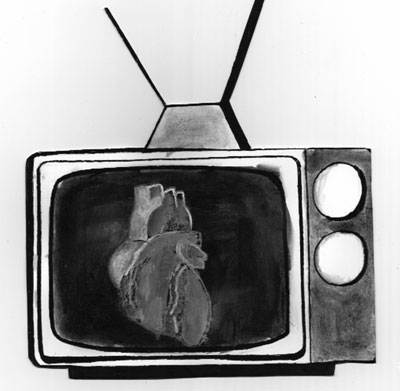 © Brooke S., Indianapolis, IN