Modern Broadway
April 30, 2013
It is undeniable that classic shows and entertainment from the beginning of Broadway theater are the foundation of modern shows you will see in all over today. It doesn't matter if there's thrusting or corset strings busting; it all came from somewhere, and even the professionals today can learn from can-can dancers and dames from the 1920s, when shows on Broadway first opened.

Many people argue – predominantly from older crowds or the theater-junkie hipsters – that modern Broadway is nothing compared to what it used to be. And while that the statements they make are subjective and perfectly valid from their own perspectives, my opinion is that it isn't that modern Broadway isn't up to par in comparison to shows from the olden days; it's just different.

Like everything over the past century, Broadway has evolved. Some people can't just let go of the past, or they don't let themselves be open-minded towards shows that best showcase the interests of modern society and culture. Just because you can find profanity and even nudity in select shows nowadays doesn't mean Broadway has sunk to slime in the gutters. There is actually a wide variety of shows that there perhaps wasn't apparent back at Broadway's roots. You can still find revived classics such as Cinderella and Pippin, or you can stimulate your senses with the spellbinding show "Wicked" or the jazzy tunes of "Chicago".

There are shows that are more based around the choreography and dancing, vocals of angels, or maybe you're just looking for a stellar script. Not a fan of musicals? No problem. Check out a good play. And if you want to see familiar faces, there are many celebrities including – but not limited to – Daniel Radcliffe and Tom Hanks that have graced the Broadway stage. Having more mainstream actors perform on stage not only reels different crowds into the theater, but it gives actors/actresses the chance to try something new and expand their horizons.

In conclusion, though you won't find Ethel Merman and Al Johnson warbling out classic keys of jazz and all that hullabaloo (if you haven't heard of them, that just further proves my point), there is much talent and excitement to be found on stage today. Whether you're jamming to the soundtracks of rock operas in your bedroom or primping yourself for a night at the Gershwin, there's almost no way to find one aspect of any show you see that you can appreciate.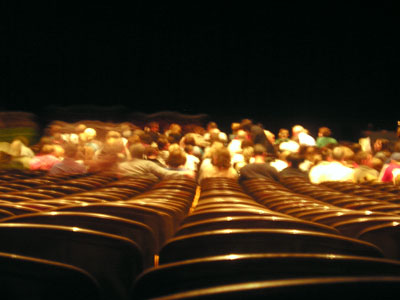 © Jessica P., Bethel Park, PA