The Truth About Being a Lesbian
June 7, 2016
I am a girl.
I like other girls.
Nothing else to it but that.
No, I wasn't born this way. No, someone didn't turn me gay for the rest of my life. No, I'm not waiting for the perfect guy to come along and sweep me off my feet. Everything about me is natural.
Here's the thing most people don't understand about lesbians though: we didn't get traumatized by an older man as a little kid and that's why we only like girls. Although there are some cases like that out there—although I'd like to say there wasn't—I'm sure they actually had to adapt to it by force because they were too scared to come near a guy. They didn't choose the decision themselves. To them, they had to like girls. But every other lesbian just kind of started to favour girls over boys at some point in their life. Not by force, but by choice.
Another thing that people think is that we're waiting for the right man or we're just experimenting. That throws me over the edge. I know that there are some girls out there that are experimenting with other girls, trying to figure out their sexuality, and that's good! But waiting for the right man?! How does that even make sense? 'Oh I can't get a man so I'll just get myself a woman?' I really don't think that's how it works. We're lesbian because we don't find interest in men, not because we're waiting for a man to be interested in us.
Even though there are plenty of reasons why people think we're lesbian, only one makes me the angriest: when people say it's just a phase. Maybe for like 1% but for the the other 99% of us, no, it is not a phase. Some have already gotten married and probably have kids or something! You call that a stage? That's like me telling a straight girl that they're actually supposed to like girls and that no men will ever want her, no matter how much they may say they love her. That being straight is 'just a phase' and that she needs to get herself a girlfriend before it gets too out of hand. You tell me, is that really just a phase?
Now, going into probably the most touchiest subject on the planet for anybody, the part when bullying happens. Now, I do not encourage it and when it does happen—if it does—it is not okay. Gay or not. But there are some people out there that think they're above the rules and can do whatever they want. That they can make fun of us gays for liking the same sex. Those people are not only called homophobes, but jerks as well.
Some of those homophobes physically hurt us by pushing or kicking or punching, thinking that they can beat the gay out of us. Others will verbally hurt us by calling us the q-word and the f-word. I don't say them because to me, they are extremely offensive. And for many of us gays, we don't do anything about it. We go home, cry it out, and pray for tomorrow to be better. After a while, it becomes an endless cycle up until the point where we can no longer feel anything.
Me? I've never personally experienced major bullying. It was always something minor from some guy at my school who was brainwashed into thinking that all gays should die. I used to know him before he was brainwashed. He was nice.
One day, he went up to me and started to say something rude and I told him to go get a boyfriend just as a joke, you know? He took it the complete wrong way and said that he's not a disgusting f-word like me. That was the most offensive thing I've ever heard in my life.
Another thing is that when we come out, people think that Satan has gotten the best of us or something crazy like that. That we can just pray it away and then in the morning after downing a gallon of holy salt water, everything will be better. Or they believe that God has taken a toll on us. Something irrational like that. Things that don't even make sense.
Some people actually end up self-harming because they hate themselves. Whether it be from bullying or not being accepted into the family, they self-harm themselves for something that they think is their fault but really isn't. Cutting is a big one and they would do it because they're gay. As if, liking the same sex is such a sin that they feel the need to punish themselves for it.
I won't sugar-coat it, I have cut before. I had just gotten my first girlfriend and kind of came out to everyone. They all supported me but my mom just kind of gave off this feeling that it was wrong. So I cut, got attention, got dumped after my first kiss with her, got meds. It was awful.
Soon enough, I learned to love myself for who I am.
I am a girl.
I like other girls.
Nothing else to it.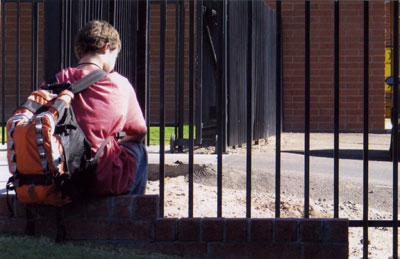 © Molly L., Phoenix, AZ