Why Donald Trump?
May 24, 2016
The 2016 race for the next U.S. president is becoming much more intense than was expected. Even in China, the world's biggest country, presidential races are hotly debated. Interestingly, in America, Donald Trump, a billionaire who was not projected to win the election early on, has recently defeated other strong competitors. He has now won the Republican Party nominee.

Mussed silver hair and a big mouth full of insane quips: this is my impression of Donald Trump. I wonder how such a frantic man could win over such support from voters. After reading articles about his ideologies and his biography, I have now realized that Trump is actually a tough and decisive man.

To understand why Trump has made such an impact, we must consider the state of the U.S. economy. Today, America is having great difficulties when it comes to economic recovery. For instance, the government has not had effective ideas on how to deal with economic problems. Essentially, it makes sense to elect a new president who has much experience in economy and business. Obviously, Trump would be the best choice because he is a successful business person.

Also, at the beginning of the Obama Administration, he promised to close the Guantanamo Bay detention camp in Cuba. Now that his presidency is about to end, the promise he made in 2008 has not been achieved. Even though President Obama made a historical visit to Cuba this year, he avoided talking about this important issue. It seems that Obama wants to leave the issue to the next president. The Obama government is also stagnant in the ISIS issues. Though the government did military intervention in Syria for several months, it's almost impossible to control the ISIS forces. For instance, last November, the ISIS terrorists attacked Paris. However, facing such serious threats, the Obama government did not take any useful actions. These very serious issues alarm Americans. Basically, Trump has spoken for the majority of Americans who view terrorism as a real threat, and this resonates with people.

Finally, unlike other politicians, Trump faces issues directly and gives the easiest suggestions when it comes to economics and terrorism. This produces hope in Americans again. In the coming years, America needs a firm and decisive president to deal with the problems such as security, economy and even gun control effectively. Perhaps America needs a forceful change, and perhaps Trump is the right one.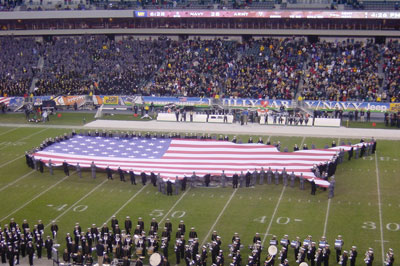 © Kristin B., Middletown, DE