Donald Trump? Not Funny.
March 23, 2016
In case you hadn't noticed, there's an election going on. An election for the most powerful office in the world: The United States presidency. And let's just say, if you've been following it at all, we can all agree things are getting crazy. I mean presidential elections are always nuts, but this one has gone particularly haywire. Why? Well, because…. Ugh.

I never wanted to do this. I know how much he who shall not be named LOVES when people talk about him. Whether you're bashing him with praise or criticism, he doesn't care. He just loved being covered and talked about, and the more people try to knock him down, the more he seems to do better and better in the race. But I just couldn't hold in my churning, bubbling anger any longer. So I'm just going to say it:

DONALD TRUMP!

This election is flat out the craziest and honestly, most terrifying one yet thanks to that guy. There, I did it. You're welcome Mr. Trump, you just won another state. Or at least that's how it seems to work.

At my middle school, a lot of the kids are saying Donald Trump is funny. Being a former reality star known for slapping his name on buildings and other random products that typically fail, he's turned his name into a brand. Everyone knows it. Trump. He's a celebrity. A lot of people think it would be cool and funny if he became the president of the United States.

But I'm here to say: NO. It wouldn't be funny, not the tiniest bit. The day of Donald Trump's inauguration will be the day the world plummets into an endless spiral of disaster. It will be the day Canada's population multiplies because so many panicked Americans are making a run for it.

Just a recap for all you poor souls who haven't been following the election (you're in for an ugly surprise when you turn on the TV), here is how Donald Trump opened up his campaign:

"When Mexico sends its people, they're not sending the best. They're sending people that have lots of problems and they're bringing those problems. They're bringing drugs, they're bringing crime. They're rapists and some, I assume, are good people."

Eeeek. Racist much? Now one would think that would immediately take him out of the competition. But no, later he said this about immigration:

"I will build a great wall — and nobody builds walls better than me, believe me —and I'll build them very inexpensively. I will build a great, great wall on our southern border, and I will make Mexico pay for that wall. Mark my words."

And this on Muslims:

"I, Donald J. Trump, am calling for a total and complete shutdown of Muslims entering the United States until our country's representatives can figure out what is going on here!"

And this on global warming:

"The concept of global warming was created by and for the Chinese in order to make U.S. manufacturing non-competitive."

And this about a sucessful woman actress:

"Rosie O'Donnell's disgusting both inside and out. You take a look at her, she's a slob. She talks like a truck driver, she doesn't have her facts, and she'll say anything that comes to her mind…. I mean she's basically a disaster."

And this about former prisoner of war John McCain:

"He's not a war hero. He was a war hero because he was captured. I like people who weren't captured."

And this about a protester at a rally:

"I love the old days. You know what they used to do to guys like that when they were in a place like this? They'd be carried out on a stretcher, folks. It's true. … I'd like to punch him in the face, I'll tell you."

I could go on forever, but it would turn into a novel. Anyway, after all of that, what happened? Did Donald Trump's poles go down? Did he lose states? Nope. He's still the prominent Republican frontrunner well on his way to winning the party's nomination. Still funny? I didn't think so.

Trump brings out the worst in our country. He's given a voice to ignorant racists everywhere. He's appealing to people's darkest, most irrational fears. He takes any logic and sense out of his supporters minds.

And that makes he think….

Anger. Racism and Prejudice. Ignorance. Those sound like Hitler's greatest weapons, don't you think? Now I am in no way saying that Trump is Hitler because I know, being Jewish, that can be very offensive. So hang with me, I'm just making a point here:

The Nazis were able to take advantage of the Germans because they were angrywith their poor economy and willing to follow anyone who said they could solve their problems.

Trump's main audience is also angry, and mostly uneducated people. Hey, he said it himself, "I love the poorly educated." No but really, the similarities are terrifying.

Both Hitler and Trump have:

-Used racism and false rhetoric to rise to power
-Taken advantage of people's anger
-Proposed mass deportations
-Promised to make their countries great again
-Blamed minorities for their countries problems.

Now again, I'm not saying Trump is Hitler. I'm not laying out a conspiracy theory. I'm not trying to do anything else but prove my point: Trump is not funny.

The presidency is not a reality show. The presidency is not a joke. It's the presidency. The most important job of the world. The president needs to be calm, wise, and thoughtful, ready to make decisions that could save or destroy our lives. Not rash, impulsive, and vengeful. Are we seriously on track to give the nuclear launch codes to a the man who says, and I quote:

"If you see somebody getting ready to throw a tomato, knock the crap out of them, would you? Seriously. Okay? Just knock the hell. I promise you I will pay for the legal fees. I promise."

You think that guy is going to make peace between nations? Give me a break.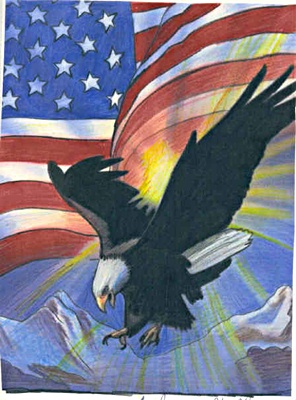 © Andrea G., Middle Village, NY