For the Sake of Change
November 20, 2008
So I was at work on Monday night, standing at the host stand at Applebee's, listening to a man at the bar talk politics. He was white, middle-aged, and a beer or two away from inebriated. He was also entirely too ignorant and loud to be speaking in public. As a McCain commercial came on the TV in the bar, I (along with the rest of the restaurant) heard him say, "Now that's my man. No way is a black man gonna be President of the United States in my lifetime. And it's gonna be some bull if he does win, because all those black people are gonna vote for him just because he's black."
Okay. Obviously, he was pretty sure he was right. I mean this guy was LOUD. And you know, even though it was such an insensitive thing to say - he probably is at least a little bit right. Just from watching the Harlem interviews, it's pretty clear that there are African American citizens out there who voted for Obama solely based on his race. And at first thought, that's wrong. It's wrong to abuse our power granted to us as citizens by democracy. It's wrong to vote for a candidate without knowing what he stands for and where he plans to take us a country. It's wrong to assume that, because Obama is the first black man to become president, he will be an adequate leader.
But then I thought about it again, and I wish I'd had the guts to say it out loud. So what? Why should we be concerned about WHY people choose a candidate? Our constitution allows every citizen to vote...and judging by all of the hype about voting (the Leonardo DiCaprio YouTube video?), the emphasis is put on the actual action of GOING to vote instead of educating yourself and being informed about your vote.
So, okay. That's not the point I was trying to make.
The point is, does it really matter that not every American who voted for Obama yesterday knew the details of his healthcare policy? Does it matter if they know exactly what he stands for? Okay. Yeah, they should know. Ideally, only the informed should vote. That makes sense. I still really do believe in what Mr. Wall said in Journalism - "If you don't read, don't vote." But this time around, I think that there was more to it.
This time around, maybe the image of a black man in a suit addressing our country on national television will be what matters. Maybe economic change won't come. Maybe his healthcare ideas will fail. But what if, for four years, my mom's elementary school students in IPS can look at the TV and see someone of their own color - someone intelligent and ambitious, someone eloquent and understanding - doing big things, it does work? Whether you believe in his policies or not, you can't deny that this will change our country. You can't pretend that the idea of an African American leading our nation won't inspire millions of our citizens to achieve more than what they'd previously thought they could. You can't ignore the doors being opened to inner-city students who didn't care until now.
It's not everything. Not even close. Obama will be tested, and who knows if he will be what he has promised to be. He stands for something, though, and even if it's not fixing the problems of the United States, it's something that undeniably matters.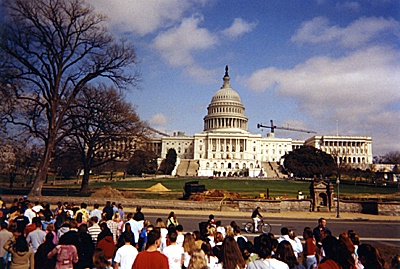 © Anonymous