Girl on Fire
March 12, 2013
There is a moment, when your whole life comes into perspective. And when it happens, you just have to take it and run.

What if I was born into a strict Afghan family? Married by age twelve, and hoping for a successful childbirth at age 13. Would I be different? Would I still be a fighter? Of course I would fight, and my heart would remain the same. For a hearts a heart, no matter what storms weather it.

But I am not an Afghan girl, nor am I burdened by real problems. I live in the city we call The Big Apple, a privileged girl: unmarried, with food and water and a home. But sometimes I wish people would listen. I wish that my classmates and friends, heavied by wealth, would drop their cares and open their eyes. I think that if one person listened to what I had to say, they would think of me differently.

Instead I am bombarded with imagery so far from the truth I live! The fact that girls' boobs and butts are the only thing holding their place in this bedraggled society angers the hell out of me. I think if our generation of ladies laid of the mascara, and cracked open a book, something good would come of it.

At the same time, we can read and write and learn. We are doctors and soldiers and surgeons and teachers, and we not only educate the dumb, but provide for the wealthy. We are what hold this place we call Earth together. I think that if one person realized that, we could all live happier lives.

This is nothing new, nor is it a new problem, or a small one. A change does start with one girl, but one girl cannot change the destinies of others instilled in a lifetime of ignorance. This seems hopeless, but nothing is. One girl may not be able to change the world, but the billions out there can. It only takes one realization, one moment for the pieces to fall into place. And a girl, a girl on fire, with a fighting heart, for these changes to be made.

We girls, we try so hard to be heard, but we are silenced. Veils are placed over our heads like privileges, instead they are burdens. People expect us to fall, but we get up. To fail, yet we prevail, and soar, and fly, until our crafted wings of hope and promise burst into something more: reality. If life is a dream, then dreaming is living. So let us dream.

My survival may not be a constant threat, and the idea of an education simple, but I am a lucky one. One who has tasted the bounty a city can offer. The life of an expensive school, and the simplicity of a loving family.

Some might say that this is the way of life. Some girls are born to be sold and bought and violated. But it isn't true. It wasn't always this way. Somewhere back our male predecessors assessed knowledge through muscle and power through voice. I know where I stand, which is higher than most girls dream of, but for me it is not high enough. I want all girls to be at my level. And the I want to keep on rising. To the next level. And the next. And the next. Until I am unstoppable.

So next time she tries to speak, let her. And when she wants an education, teach her. We are begging for a brighter future: so make it happen. I am not a God or a messenger; just a girl with a fighting heart, repeating what countless others have said before me. If you just listen, you might find:
she is worth it
she can do it
she is IT!

I am going to be the first women Navy Seal one day. And no one is going to stop me.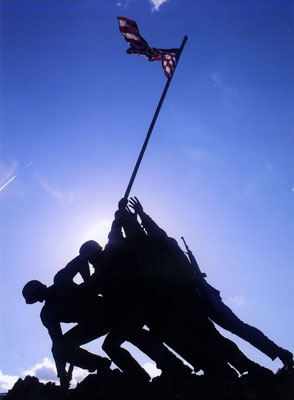 © James M., Glendale, AZ