New York's New Sex Ed Program is Horrifying
November 13, 2011
In a mandate that started Sept. 8 of this year in New York; the New York public school system outraged many parents and onlookers with their new and "improved" forced sex education curriculum. This new program uses the study courses HealthSmart and Reducing the Risk which are recommended out-of-the-box sets. While participating in these mandatory classes, students will engage in activities such as going to the store and looking at and comparing prices, brands, and features of condoms, looking up and researching porn stars, exploring sex positions, learning about s/m role playing, and for 11 to 12 year olds completing risk cards that rate the safety of different sexual activities such as French kissing, oral sex, mutual masturbation, anal sex, etc. While parents can opt their children out of some of these lessons, it's very limited; meaning they can only take their students out of a lecture that teaches about birth control or contraceptives. In addition to these things, teachers are given an explicit website to research so they can find answers to questions they might be faced with. But when they have to state their source, it gives the kids access to a wealth of knowledge about things such as how to buy a vibrator without your parents knowing, how to get started on phone sex, and many other disturbing things.

This new mandate is completely and totally unethically and morally perverse. High school students and junior high kids do not need to have the nitty-gritty of dirty sex shoved into their faces without the means to evacuate what they feel uncomfortable about.

By forcing students to participate in these horrendous classes, the New York City educational department is taking away the students' rights; as well as the parental rights of their guardians. Kids shouldn't have to do something if they find it morally, ethically, or consciously wrong. Shouldn't parents be teaching their kids to look for the justice in things? So where is the fairness in this mandate? It's not there.

High school students are not innocent. They've probably already heard about these things, known someone who's done them, or done it themselves. But 11 and 12 year olds? They haven't been exposed to things like this, and having them participate in a class where they are taught not only how to have sex, but to hide it and other sexual activities from their parents doesn't achieve the intended purpose of lowering the teen pregnancy rate and STDs. It just teaches them how to get away with it.

Having teachers explore a site where pornography and erotica are described goes against most schools codes. It is interesting that that specific site is blocked on CISD school computers and categorized as Sexual Advice. Now what does that say about the New York's education program?

Chancellor Dennis Walcott, creator of new curriculum, says that the program is aimed at the Latino and black student population due to their higher percentage of STDs and teen pregnancy. But the whole entire student body of New York public schools isn't black and Latino and blaming an ethnic group for a poor educational decision isn't very classy. Sex education is supposed to be taught inside the home and if at school it definitely should not include such scandalous topics as are on the agenda. Instead of subjecting the students to a class that is sure to be embarrassing as well as a joke, the educational department should set up a seminar for parents on how to teach sex education to their children. In this seminar parents could be taught the basics of topics such as birth control and contraceptives, adoption options, STDs and their effect, etc. This seminar would be taken on a voluntary basis, but at least it would be giving guardians a choice; and if it has to be taught at school, then make the class on a voluntary basis where the parents or students can opt out of it.

The new sex education curriculum in New York is completely and totally ridiculous. Telling students how to have sex isn't informing them about safe choices, its telling them that abstinence isn't working so have sex just don't be stupid. Teaching students to be safe isn't a bad thing, but giving them the resources to do things regardless of their parents' knowledge of it is morally wrong. It isn't the school systems job to step in and intrude on people's personal lives and decisions, as well as force them to choose something they feel is ethically immoral. Perhaps the New York educational department should reevaluate their priorities and think about what is best for the students and students' families rather than doing something just to look like they are doing something.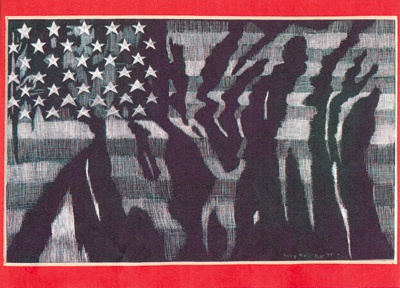 © Haley M., Ellinwood, KS