Book Banning
MAG
One of the principles that makes this country great is our freedom to say, write, and read whatever we want. Yet countless people are attempting to restrict our access to certain books, even removing some from library shelves. They cite reasons ranging from explicit sexual content to the promotion of witchcraft and the encouragement of violence. Book banning has become so common recently that the last week of September is known as Banned Books Week, when a list of the most frequently banned books is compiled. There have also been lists of frequently banned authors, as well as most banned books of the decade. What is interesting about these is that many of the books are classics.

Take a quick look at any of the lists and you will find such world-famous authors as J.K. Rowling, J.D. Salin-ger, and Mark Twain. Some of the banned books are often required reading in schools, indicating that these books have been judged appropriate for young people time and again, yet some continue to try to ban them. Since people most often attempt to remove books from schools, those who want to ban books are often parents concerned about their children. Of course, nothing is wrong with parental concern, but parents are often overprotective and misinformed about the content of these books. At a certain age, students should decide for themselves what is appropriate. In many book-banning cases, the concerned parent hasn't even read the entire book.

The list published during Banned Books Week also includes reasons the books are banned or challenged. Some reasons (promoting violence or racism) have been used constantly over the years. Since the early '90s, an increasing number of books have been challenged because of their sexually explicit content, possibly because books now seem to contain more of this, but it is likely that parents are becoming more concerned about what their children are exposed to. If the books in fact contained explicit sexual scenes, then keeping them from young readers makes sense. The problem is that in many cases, the sexual content is not explicit. In the majority of the cases, school boards refuse to ban the books, occasionally only restricting them, due to inefficient evidence.

This year the Harry Potter series topped the list of most banned books. That series doesn't have explicit sexual content or promote violence. Many who attempt to ban Harry Potter ignore the fact that the books have encouraged many children to fall in love with reading. Instead, they accuse the amazing series of such outrageous things as promoting devil worship. They say that these wonderful books confuse children into believing they can do such evil things as sorcery. I've read all the Harry Potter books several times, and have never been encouraged to become a witch. Like many book banners, opponents haven't bothered to read the whole book, but instead make accusations based on rumors skewed by their personal beliefs. There are cases where restricting a book is warranted, especially certain ones that have content inappropriate for young readers. However, book banning has reached a ridiculous and illogical scale. If Harry Potter can turn me into a devil worshipper, where does it end?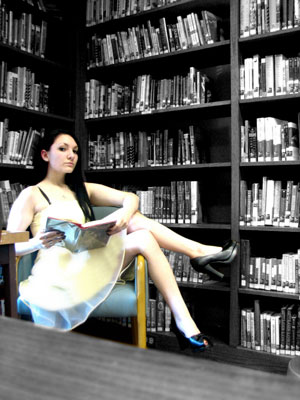 © Anonymous