To The Art Of Theatre
October 11, 2016
I have always described theatre as a way to express yourself. A way to accept and understand yourself. I have called people in theatre programs that I've been: stuck up, snooty, annoying, toxic, etc. Now I have never seen anyone bent on destroying how artists are perceived.
I pose a question, what do you think theatre is supposed to be? Forgiving, loving, accepting. Yes, I can be a slob who leaves his stuff in neat piles like other people, a dictator who won't loosen the reins for anyone, since it's supposed to go off without a hitch, and a pure, utter annoyance who will not leave you alone, whose voice bugs you and is the inner critic. EVERY SINGLE TIME when someone has been like that, I try to call them out on it, but I do not believe I can, since my slurred speech will fail me. All of you actors that I have ever met have good, redeeming qualities: peacemaker, organized, amazing characterization skills, knowledgeable, etc., but I know with my heart that I cannot do physical confrontations without having a breakdown. Those are not pretty.
Theatre is cutthroat. There's no denying it. Theatre is a way of life. But when people do not practice what they preach, then it becomes a toxic situation and they become toxic themselves. I don't spew hatred. I am not belittling anyone except if it reflects their acting ability, then yes. I will let it rip. We're actors, we're supposed to be tough. We open up to people and show them sides of ourselves that we don't know ourselves. Ever since my first steps into my first collegiate theatre program, I have felt uneasy, especially since I always look for the good in people until I realized that life was not like High School Musical. I actually have to give thanks for that, helping me grow a thicker skin.
I forewarn people to only take the theatre classes, but not do any productions if feel like they shouldn't. The classes will be an excellent precursor to what the productions will be like. That is where I believe that's where hatred and toxicity grows and accumulates. I may be withdrawn from whatever theatre classes I have, but I will not be silenced. I have to stand up what theatre is supposed to be: as loving and accepting as possible. I do have faults; I will never deny it... Any human does. Whenever you bash someone on social media, it reflects poorly on yourself. You think that I don't realize how you instantly shut up when I walk into the theatre, that I don't notice the sly looks, the harsh comments on my abilities, on my appearance for Pete's sake. That's what I warn about. Not the shows, not a teaching style, though I do wish harsher criticisms were allowed, but it's the people. Will you use that power to step on each other's feet and crush others' will or help lift up a dying art?
I may be harsh when it comes to theatrical styles, but that's how I see the art of theatre and the portrayal of the human emotion.
Sincerely,
A Troubled Thespian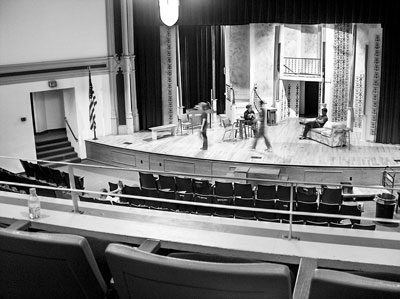 © Sean C., Princeton, IL