Raise the Flag at Half Mast
October 26, 2008
We raise our American flag when an important leader dies: presidents, governors, and people like rosa Parks and Martin Luther King Jr.who took a stand when no one else was willing to.

But what about the other people who die every day for us? Who sacrifice themselves for a better tomorrow? Soldiers in the Marines, Navy, Coast Guard, Army, etc. put their lives on the line and the least we can do is raise the flag at half mast in their honor. We should never take our freedom for granted because without those men and women, we could lose it in a second. We, as fellow Americans, owe them our gratitude, our appreciation.

Many say we don't do it because we are at war a lot. Well, should we be? What does that say about our morals, our values? Shouldn't we be putting peace over our pride? I know it's not as simple as "let's not get involved in war" because sometimes it can be unavoidable but we can still raise the flag at the times that we are in war. I mean, it only loses its meaning if we let it. If we let all our memories go.

That flag wears the pain, the happiness, the triumph the heart of our people, our soldiers. Be proud of it.
Just remember that those are our mothers, brothers, aunts, uncles, sister, cousins out there! We all love them so much and we ought to let their memory, their dedication and loyalty to the United States of America live on forever through that flag and through us.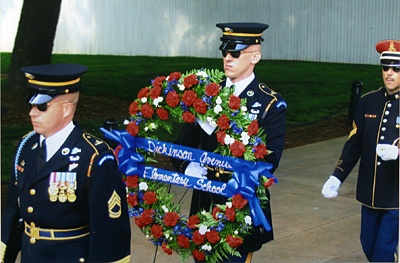 © Alejandra D., Milford, CT