Moving Out
MAG
March 1, 2015
Every time I mention the fact that I live in Nepal, my online friends seem to get into a state of mild hysteria, often followed by a bombardment of questions ranging from "Whoa, do you guys actually drink tea?" to an occasional "Have you seen a yeti yet?" I don't mind these questions. In fact, I love answering them as much as I love asking my own questions. After all, although everybody has heard of the United States, there are details about the American lifestyle that we Nepalis simply have no idea about. Of the many, many surprising things about America that I've learned from discussions on the Teen Ink forums, the most shocking is the concept of "moving out."
"Of course we move out of our parents' house once we grow up," my friend told me. "I mean, we can't stay with them all our lives, right? Everybody moves out here in America once they come of age."
Another user added, "Well, not everybody. I know a couple of people who still stay with their mothers. They pay rent, though."
"Pay rent at your own home?" I asked, more confused than ever.
"Well, it's technically your parents' home," she replied, "and we all want to be independent."
As we discussed this further, this exotic practice began to make more sense to me. I must admit, I still find it very hard to digest that parents can accept rent from their own children, but all in all, my friends were right; this system does make a person emotionally and economically independent. Children raised in such environments can clearly cope with life's hurdles better, and it is not hard to understand why most of the Western Hemisphere follows this practice.
On the other side of the Earth, however, we do the complete opposite. Where I'm from, unless it's absolutely necessary, children never leave their parents' home. In fact, we don't even call it our "parents' home." If children do leave home, not only are they looked down upon, but the whole family is considered broken. Most families on the Indian subcontinent, therefore, are joint; more than one married couple live under one roof and share the same table. While middle-aged people are at work, the oldest generation looks after the children. That way, all our traditional values and morals are passed down along the generational ladder. The children also benefit from being brought up by their aunts and uncles as well, exposing them to a wide range of knowledge that they might not have received from their parents alone.
What my friends and I found interesting was how one system's con is the other's pro. While people in the West have a harder time socializing than their Eastern counterparts do, they are independent, a trait that we don't seem to excel in. If we could somehow integrate these seemingly conflicting practices, perhaps we might have a perfect social system.
Until then, however, we should keep exploring and cherishing these differences – after all, who knows what we'll end up learning?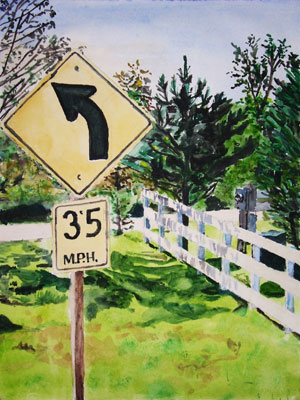 © Tim K., La Crosse, WI