NYC Road Trip
MAG
January 11, 2014
I took my first road trip with friends when I was 16. I was in the school band, and we took a field trip to New York City – a bunch of sweaty teenagers, ages 14 to 18, packed onto three charter buses that traveled the East Coast in 24 hours.
I sat next to my friend Shawn, backpack at my feet, face pressed against the windowpane. I plugged in my iPod and watched as my school, then my town, then my state receded into the distance. We'd stop occasionally to switch drivers or visit a rest stop, but it was mostly highway. The lights inside the bus dimmed as the hour grew later, and I nodded off around North Carolina.
I woke up once before dawn when we stopped for gas. A neon Virginia lottery sign blinked in the window of the station's convenience store. I checked my watch – 2:15 a.m. A few other travelers were refilling their tanks as well. I imaged they were coming from a party or an exciting late-night job, or were clandestine agents secretly fulfilling a mission. I yawned and fell back asleep.
The next time I awoke, it was just beginning to get light out. I looked around the bus to see that almost everyone was still asleep. I pulled my yoga pant-clad legs under me and returned to staring out the window. Streaks of purple were blending into the navy blue sky. Our bus was on a twisty stretch of highway going around some unknown town. I watched as the sun peeked over the horizon, shining on the roofs and domes and lighting up a radio tower like a steel matchstick. The sunlight wound across the snaking highway and poured into the bus's windows, waking its occupants. My quiet moment was over.
After about an hour, we pulled into a McDonald's outside of Baltimore, Maryland, for breakfast. Baltimore is one of my favorite cities, full of great museums and scenery, and very walkable. It was a shame we couldn't stay for more than 45 minutes. It was wet and overcast outside, but I felt a unique energy. There's an excitement, a novelty, to overnight travel. There's a magic to falling asleep in one place and waking up somewhere completely different.
We got back on the buses for the final leg of our trip. I fell asleep, very likely in an unflattering position. The next time I woke up, we were in Delaware – close to our hotel in New Jersey.
New York is a beautiful place, and I'm hoping to make it my future home. But this time, I was just a tourist. At the end of our first full day, we got to go to the top of the Empire State Building after dark. Let me tell you, nothing equals the view I saw that night. New York doesn't just glitter, it glows, radiating a charisma that's almost tangible, and you can see it clearly from high in the air. The cars zipping around, the theaters packed with patrons, the museums full of masterpieces, and tops of smaller buildings lit up – they're beacons showing the rest of the planet, maybe the galaxy, that New York exists, and it is fabulous.
There's so much scope from up above. I saw not only Manhattan, but the other four boroughs and a bit beyond that. It makes you feel small, like the highway does. There's a lot of perspective to be found in seeing so much so quickly. I got a better view of America from a bus window than I would have from an airplane. Flying shows you the country's topography, but the tediousness of a drive rewards you with a rich view of the culture. I saw each region of the East Coast blending into one another, all seeming to culminate here, in New York. It seemed to me the heart of America, where every artery and vein replenished itself with experience before being pumped back out.
So standing on the observation deck of the Empire State Building, surrounded by the enigmatic cluster of lights that is New York City, I watched America breathe.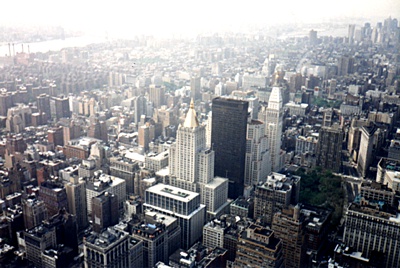 © Kristen L., Wilmington, DE