Needing New York
MAG
January 27, 2011
I dress in dark colors. I see the world in shades of gray. In my life, there's bad and there's worse. There's no difference between unhappy and sad. Everything in my life is numb.

When I'm in New York City, all of that changes. Manhattan makes me feel alive. I not only feel blissful and captivated by my surroundings, I feel untouchable. When I step onto those cracked sidewalks, my waddle becomes a skip. The shining advertisements of Times Square mesmerize me. Not only can I see the colors, I can feel them. Gray is no longer part of my color palette. I am not blinded by the lights; I embrace the glory they reflect. The noise does not make my temples throb; it brings me peace. It helps me write and think. The cars and people, the sirens and construction, make up the soundtrack of my life. The scents of the city do not cause me to scrunch up my nose. I breathe better, smelling the salt and the smoke.

At home I spend my time alone. But in New York City, I am one billion people short of being alone. You can only spend so much time separate from life – your life and the lives of others. I feel comforted by all of the people, although I will never know them. I often wonder about them: Why are they in New York? What goes on in their lives? What brought them here? I create stories. I feel unique.

Unfortunately, I'm not there, walking along those busy, beautiful streets. Not yet. I'm stuck here, surrounded by green pastures in a small town. Why anyone would want this, I can't comprehend. So I sit here on my bed, alone with my dog. On my laptop we watch a live webcam of Manhattan all day and night. If I'm busy, I listen to the sounds of the city. If I'm bored, I stare with jealousy at the people walking the streets. The yellow taxis, the skyscrapers – why do they get to be there while I'm stuck here?

Sometimes we only notice bright colors in other places because our own world is lacking. Without New York City, my world will always be gray.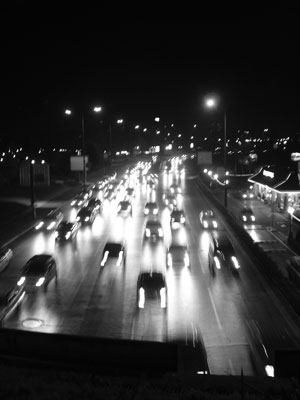 © Marietta S., Pleven, Bulgaria