We'll Be Coming 'Round the Mountain
MAG
When you pass a house with a toilet and dryer in the front yard, you may be in Alabama. That's where I go every summer to visit my redneck family in Attalla, population 6,000. A 15-hour drive with my family in a mini-van isn't the same as lying on the beach tanning while hunks walk by, but it's my motherland. The road trip itself is quite an adventure. There are many cows and many filling stations with souvenirs in Missouri, Illinois, Kentucky, Tennessee and Alabama. That's just the 15 hours of looking at nothing but billboards with nothing on them.

When you finally cross into Alabama, it's about two hours of seeing nothing but mountains, trees, train tracks and trailers until you arrive in Attalla, but by then it's dark. When we pull up the long driveway at Grandma and Grandpa's, we hear toads and crickets and then we hear the creaking door open as Grandma and Grandpa greet us with hugs and kisses.

Waking up to the smell of eggs, biscuits, gravy and homemade jelly is ever so sweet. We eat our multiple servings of breakfast and get ready for the day. This does not mean perfecting hair and make-up or picking out which stilettos to wear. The schedule for the day includes feeding the catfish, feeding the cows, visiting the garden and riding the go-cart. There's also always a dog or cat folks have dropped off who visit, which keeps me occupied when watching the minnows nibble my toes gets old. Then there's more Southern grub.

Dinner is my favorite meal. The huge family of Mimi and Papa, my three uncles, three cousins, one aunt and the four of us gather at the table for the good stuff: a large bowl of butter with fresh cut corn, butter beans, lima beans, homemade cornbread with more butter, fresh picked cantaloupe, fresh picked vegetables and fresh steak from the pasture (but not on my plate). And for dessert there's always at least two cakes, three kinds of cookies plus candies and homemade Chex mix. Then comes family time.

The big event, the family reunion, comes the following day and we dress up in our nicest plaid shirts and clean britches to see our family of 65. We meet at a Baptist summer park (no fishing on Sundays). There's plenty of Southern food and games to play, including horseshoes, croquet, football, rock climbing, swinging and talking about being a redneck. Then we have more food and listen to my great-great Uncle Jerry Jones tell stories about our family. After eating, the pick-up trucks slowly disappear and we say our good-byes.

We return to the farm and hang out for a bit. While Grandma naps and everyone else is outside talking or inside watching TV, I head for the porch swing and look at the millions of stars lighting up the Alabama sky, which I don't see in Kansas City. All I can hear are toads and crickets.

As I doze off upstairs with everyone still chatting downstairs, I think about family, cows and how much fun I've had. It's time for sleep since we leave early the next morning, saying our good-byes and thinking about the next time we'll be coming 'round the mountain to Grandma's house.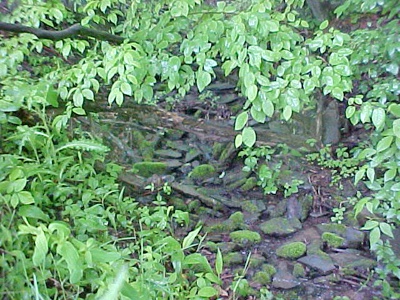 © Anonymous