Summer Sunshine
July 15, 2009
The summer sunshine rested on my shoulders. It crept from beside me then up my back. I left it there. It was so warm, so different. During the year, sunshine never felt like this. It never felt so... inviting. I dreamt to always live in this moment. I felt the sand between my toes and played with it using my fingers. The joyful memory of sunshine on the beach will always last in my mind. The sound of the waves crashing one after another on the shore. My eyes closed to focus in on the noise of each wave. Seagulls were talking to each other off in the distance; enjoying their time in the sky. No doubt they were enjoying their time in the sunshine.


The sky was so blue and so comforting. I laid back on my towel, covered with sand. Put my sunglasses on and relaxed. Never did I forget how everything looked that day. Never would I regret laying in the summer sunshine. People passed by, carrying on their own conversations. I was alone. I was relaxing. My body started changing to match the outside temperature. I didn't care. The cool, salty ocean would relieve me soon enough.


Oceans are not blue, I realized. This ocean was more green looking. Some-what cloudy. But so beautiful. I moved with every wave. The refreshing ocean took me in. Water covered every inch of my body as I went in. I could still feel the familiar sandy floor under my feet. Again, I took it all in. These moments I would live in forever. My memory of the wonderful day at the beach will never fade.


After that day, every time I saw the sun it seemed oddly foreign. It never showed so bright again. It was never warm or inviting. Nothing could ever again compete with the vision of that summer sunshine.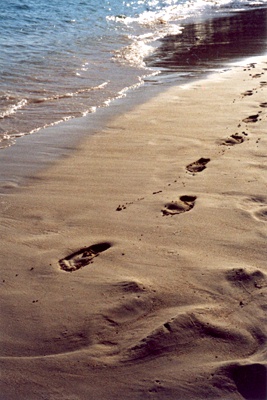 © Ashley B., Potomac, MD