Coming to America
MAG
April 23, 2009
"Dear Mr. Abdullah Mehraban,

We would like to invite you to America for a conference on peace in Afghanistan." Our Russian friend read this to us as we sat around her, curious to know what these words meant. We spoke Russian and Farsi but recognized only a few words in English. My father was very excited when she translated the message: this was good news. He immediately started planning how he would go to America and then bring us over to start a new life filled with wealth, love, and peace.

We had been smuggled from Pakistan into Russia by family members who lived there. We were happy that my father was able to go on this marvelous trip even though he was unable to bring us. Once he got there, we sat in our apartment, anxiously awaiting his letter that held our future.

As illegal aliens in Russia, we were uncertain what awaited our family. Finally, after four years, the letter arrived. I jumped as I saw the smile in our friend's face and didn't even need a translation to know that it was finally time to be free! I noticed a drop of joy running down my mother's face. She was going to be reunited with her husband. I had even started reading some English books to learn a few words. All I knew so far was, "Hi, my name is Spenta. What is yours?" We didn't have to live illegally in Russia anymore. We were finally going to America!

When I was only six months old, my family fled Afghanistan to escape the civil war and violence caused by the Taliban. After a brief stay in Pakistan, we settled in Russia without passports, making it difficult for us to go out in public. Our biggest challenge was avoiding arrest. Usually when we went shopping, my mother and sisters would use me as their "secret weapon" to escape police scrutiny. At four years old, I was the picture of innocence, and my family's freedom was in my hands.

On one such excursion, our whole family came along, making us an obvious target. An over-zealous officer arrested us and put us all in a tiny cell, except my youngest brother and me. We were forced to stand in the waiting room, terrified about what would happen. After two hours, a friendly officer vouched for us, and my family was released. To this day, I remind them of how foolish we were to risk going out in public. I still remember the fear and anger I felt that day when I was treated like a criminal.

After experiences like that, I was relieved to come to the United States. The first few weeks were both exciting and frustrating. The most daunting challenges were understanding the language and getting used to the customs. The first day of school was fun but confusing because of my lack of language ability. On the second day, I drank expired milk and had a terrible stomachache, but couldn't tell anyone how I felt. The teacher and students tried to help, but I couldn't communicate until they brought in a student who spoke Farsi. This was an unsettling experience for everyone, and made me realize how important it was to learn English. I also saw how kind people were in my new home.

A few years later at a school assembly, my name was called: "Spenta, please come to the stage to accept this award for citizenship." Through my experiences in Pakistan and as an illegal alien in Russia, to my first day at school in America, I have come to appreciate my new home and freedom.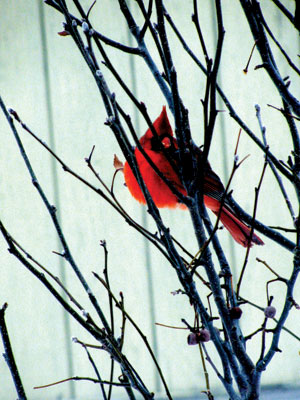 © Trent M., Centerville, IA