Fast Lane
MAG
My freshman year, someone told me that asthma and the sport of swimming don't mix. After that first season, I was pretty sure they were right. I suffered through week after week, attack after attack, too proud to quit but too tired to continue. There were too many people to let down and too many ­expectations to live up to for me to give up.

So I stuck with it. A teammate became my mentor, talking me calmly through each lung-busting attack, coaxing me gently back into the water, just one more time. I ­became a backstroker, where you have pretty much unlimited opportunity to breathe. I was pathetic, but I wasn't giving up.

The season ended, and with its close came new determination. Six other girls on the team suffered from my affliction, but I didn't see them whining. So I changed.

I swam every chance I had, working not only on lung capacity but stroke mechanics, turns, starts, and muscle-building. When I couldn't get to a pool, I ran until my lungs burst and my legs burned.

Sophomore season rolled around. I got in the pool for the first meet expecting more of myself, while everyone else was wondering what I was still doing there. The 100-yard backstroke, my best race, came up, and I gave it my all. At the start, I remembered what I'd practiced, holding my body straight as an arrow as I streamlined through the water. In the middle, I moved with perfect rotation and strong, certain pulls. On the turn, I flipped at the right time, pushing off the wall with a force I had never felt before. This continued for four lengths, air struggling through my gasping lips as my mind told me I'd be okay. After all, I had more than coaches to prove wrong. I slammed into the wall with a perfect finish, looking at the lanes around me.

Suddenly I was very confused. No one else was at the wall. I heard cheers from my teammates and saw the jaw-dropped look on my coach's face. I spun around to see five girls still swimming. My eyes darted to the time board.

Seven seconds faster than my end of season time, something nearly unheard of in the sport of swimming. And my first first place ever!

I've swam varsity ever since.

Every day I struggle, every length I gasp, every turn I ask myself why. But when I see improved times, when I win races, and when I take four medals at a league meet no one ­expected me even to qualify for, I know the struggle was worth it.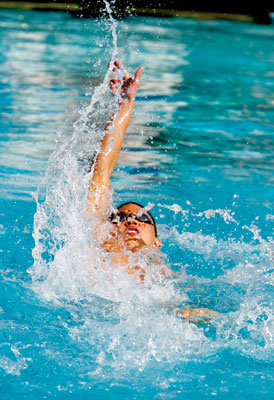 © Anonymous