My New Sport
October 29, 2008
Almost everyone has heard of polo: it's the game where all the snooty people get together and hit a ball around with a hammer while riding horses. With this knowledge, one would probably assume that water polo is basically the same sport, only the participants ride giant seahorses. Sadly, this is not the case. Water polo, in fact, is played by fourteen players who tread water the entire time and attempt to score goals with a volleyball-sized ball. When I first discovered it, I merely noted its noteworthiness and promptly forgot its existence. Though, this truly strange and obscure sport soon became a key interest in my life.


In the summer of 2008, my friends and I took a keen interest in the Beijing summer Olympics. In particular, we fancied the "paths less traveled" of the games as we had grown weary of watching people run in circles all day. Exotic sports such as handball, kayak slalom and synchronized swimming interested us greatly. However, out of all the sports, water polo had the greatest effect on us. The grace and ferocity of the players captivated us as we watched for hours on end, the strong men and women speeding down the pool, ball in tow, towards the enemy net, brutally knocking aside any in their way. They made it look so easy, we had to try it.


So there were the four of us, Pierce, Barrett, my brother and me, sticking to the deep end of my backyard pool, trying to score my baby cousin's water wing in the inflatable pirate-ship goals. What we did there on that lazy summer afternoon resembled water polo in no way other than sheer physicality: I nearly broke poor Pierce's nose in an attempt to reacquire the "ball." After about an hour of this wrestling match shoddily disguised as a water polo game, Pierce simply stated, "we should do this for real."


Pierce went home after our first game in my pool and told his mom that we were interested in playing water polo legitimately. After scolding him for pulling such a stupid stunt at my house, Pierce's mother searched for water polo programs in our area. There weren't many. She contacted someone and found out that a group of people convened every Tuesday, seven-thirty to nine p.m., at a pool thirty minutes from my house. Her contact also said most of the players were adults and we would be the youngest ones there but we were welcome to try it out. Pierce and I were very excited to test our abilities, as was Barrett. Though, he had gymnastics on those days and could not come with us (ironically, gymnastics was one of the sports we avoided watching in the Olympics.
Now, my friend Pierce was a five-ten, half-Nigerian, half-Texan lifeguard and an excellent swimmer, despite his five-inch diameter sponge of an afro. I, on the other hand, was not the fastest of swimmers. I was very nervous about trying this new sport and at some points, I even considered not going. When Tuesday rolled around, I was very uneasy. I wasn't sure how the experienced players would treat me. Despite my terror, we arrived at the pool at seven-twenty, which was apparently forty-five minutes early as far as the other players were concerned: Pierce and I waited for a very awkward half-hour as the team trickled in and assembled beside the pool. There they were, complete with ripped bodies and streamline Speedo swimsuits; and there I was, with my somewhat flabby stomach and baggy swim trunks. Let's just say I didn't quite fit in.
As I sat on the side of the pool, apprehensively waiting for something to happen, George, the man in charge, strolled over to me and simply inquired, "ready to hop in?" That was all the motivation I needed. I didn't know how the whole thing would ever work out but when I was asked that question, I realized that I would never know until I tried. So, without further ado, I jumped in and had one of the greatest two-and-a-half hours of my life. I played almost every Tuesday after that. Yet, that first night was special. That night I came to an important conclusion that stuck with me for many years to come: some things in life will just seem weird at first. Though, after I get a chance to test the waters (no pun intended), they probably won't seem so weird.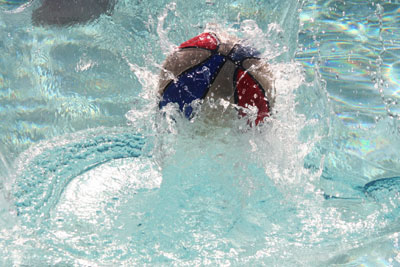 © Anonymous