C Team
April 11, 2012
In my particular middle school for each sport there is an "A" , "B" and "C" team. Including Volleyball.

Nov 23 and I'm at the first volleyball meet. I feel so confident like yeah, I'm so gonna make "A" team. Im so good and no one is gonna beat me! Yeah well that was all about to change. The first meeting just turned out to be simple practices, turning in money and completed paper work. The next meetings were just about the same. Then came three days before the first game. I was heated I was just about sure I was was either going to make "A" or "B" team. I was a brat. I thought "C" team was for losers and if I got on "C" team then I would absolutely have dropped my social status. It was time to pick teams. I was worried and a little bit excited at the same time.

Coach said ," I will start with "B" team!" He started callling off names and listed 12 players. My name was not on the list. I was jumpy as I thought okay Kayla, you either make "A" team or "C" team. I thought there was no way I was gonna make "C" team so I was super happy! I was jumping all around congratulating all my "B-Teamer" friends.Then Coach Scalf said, " Ladies calm down, its toime to announce our one and only "A" team but before I read off my 12 girld I just want to say thank all of you girld=s for trying out and please I beg all you ladies please do not quit if you make "C" team, now onward!" "Shaelie, Emily, Imani, Olivia, Audriana, Jesiisca, Madison, Belle, Maryah, Natalia, Paola, and Gabriela." My name was not called. I was furious. My eyes started burning. "Give a big hand for our "A" and "B" team ladies!" Where was my part? Did I make the team? Did I even have to make it? Was it reality that I had actually made "C" team? It was. "Now the rest of you are on "C" team." I couldn't take it anymore so I stood up and said, " Wait, is this really happening? Did I just get told to applaud the two higher class teams? What sense does that make? Yeah sure they have better skills but that makes them no better than "C" team! Favoritism is not gonna help "C" team win is it? NO ITS NOT SO STOPPIT! Dont you think "C" team deserves an applause too? WE worked our butts off to try and make the higher teams and this is out pay? Wow thats not fair at all I really-" "MARKAYLA CALM DOWN!" the whole gym screamed. I was more than furious I was hyperventilating I just couldnt take favoritism it was too annoying for me. I told all my friends that I was going to quit volleyball because I didnt want to been seen on "C" team will all the reat of the badd suckky players who had no life and didnt know any of the quote on quote popular girls. AFTER getting home and thinking about it I decided that I wasnt gonna quit just yet. So I kept on going to practices. We ended up winning one of our first games all because of me. C team turned out to be really fun. My friend Gabriela who happened to be on "A" team came up to me and said, " I guess your on of 'them' now, please dont talk to us anymore." From that statement I learned 2 valuable lessons; don't give up on what you love and if friends are mean, they arent friends they're aquaintinces.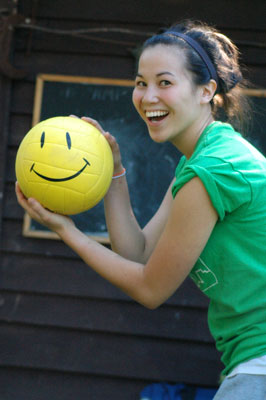 © Masaleen O., Palatine, IL