True-Blooded Aggie
MAG
My family has many traditions, but my favorite is goingto see Texas Agricultural Mechanical (A&M) play football against theUniversity of Texas. This is the one game we never miss, whether at home or away.It is one way my family gets to spend time together. We always see family orfriends, watch an astonishing game that we all enjoy and head home after awonderful few days.

Every even year when A&M plays in Austin, we staywith our Longhorn friends, the Finchers. The eight of us go to the game together,so when we arrive in their van, four Aggies and four Longhorns pile out. It isfunny to see people's expressions because no one believes Aggies and Longhornscan be such great friends.

No matter what the score, we always return totheir house still speaking to one another. My family loves to stay with ourfriends, since this is the only time we get to see them. My parents met them 15years ago and have stayed friends, despite the difference in their schoolaffiliations.

On the odd years, when the game is in College Station, we goearly in the morning. After the game, my family goes to my grandfather's housefor a few days. He lives only 45 minutes from College Station.

Threeyears ago my brother got sick and could not go with us. My parents sold two ofour tickets to friends, and Dad took me to the game. Mom was upset because sheand Robby missed the best game of the season.

Dad and I spent two hourswalking around the A&M campus. I got to see the room where he lived forthree years. The current resident had his door open, so we knocked and he turnedaround, expecting to see one of his friends. My dad explained that this was hisroom more than 15 years ago and the guy let us look around. I could not believemy dad had lived in such a small room for so many years.

Next we atelunch and then went to the Dixie Chicken, a popular hangout where students goafter telling their parents they're studying at the library. On game days theplace is jammed.

All in all, it was a great day exceptfor the score. I later found out Mom threw pillows at the television because welost by so much. She also did not know that at the end of the game the visitingfans stormed sacred Kyle Field and started a fight. She would have been as upsetas Dad if she had seen the fight.

For 15 years I have gone to watchA&M play football against the University of Texas. These games are myfondest childhood memories. Texas A&M blood runs through my veins. Whatevercollege I attend, I will always root for Texas A&M, especially when theyplay Texas.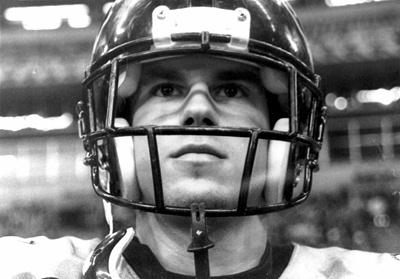 © Anonymous