The Little Wrestler Who Could
MAG
My parents were doubtful. My uncle, a doctor, did not recommend it. Even my friends poked fun at the idea. This was everyone's reaction to the idea of me, a skinny 100-pound boy, wrestling.

I first had the idea one afternoon during French class. I was talking to the team captain, who said, "Wrestling is a tough sport but I think you would do really well. You should try out."

After I talked to my parents, they asked my uncle his opinion. Though he assured them I would survive, they were still worried. My parents signed the forms, reluctantly, and I was in!

A few weeks later, practices began. They involved a 20-minute run, weight-lifting and wrestling, and always ended with the dreaded Big 21: 21 push-ups, 20 sit-ups, 19 push-ups, 18 sit-ups, etc. For the first few weeks, practices were really difficult. Every night I would come home sore and exhausted, but then I began getting used to it and found myself learning new moves and techniques.

Finally, our first match rolled around. That morning, I weighed in at a little under 103 pounds, which meant I could wrestle in my weight class. The whole day, my friends wished me luck.

I was very anxious for the last bell to sound. When it finally did, I went back to the locker room to change into the red wrestling uniform. It felt a little tight, but I had other things on my mind.

We boarded the bus, and except for a casual conversation between Coach Burgess and the driver, everyone was very quiet. I was really hoping that I would win my first wrestling match. When we finally arrived, I began to get focused and tried to get the blood flowing through my body.

Entering the gym, I noticed the crowd in the bleachers, the crimson mats, and the rows of chairs for the teams. As we stretched, my teammates encouraged me.

"You're gonna kill this kid, Affan."

"Be aggressive, Affan."

"You've got this guy, little Sheikh."

When the other team finished stretching, the referee called the 103 weight class wrestlers to the mat. Coach called me over.

"Okay, Affan. Stay aggressive and try to use what you have learned the past few weeks. Now try your best, and go get 'em!"

I strapped on my headgear, checked in at the judges' table, and met my opponent at the mat. He looked smaller and weaker, but I made no assumptions. When the ref blew the whistle, the match began. I was in control most of the time, trying to use a half-nelson to pin him. After what seemed like only a minute, I succeeded. I was ecstatic! I jumped to my feet, feeling light as a feather. Shaking hands with him, I walked over to Coach and my teammates, who were congratulating me. But the day was not over.

During our other matches with that school, our second opponents arrived. While they stretched, I began to warm up again. Soon, the referee called for the 103 wrestlers, and I headed to the mat.

This time, my opponent was a bit bigger and looked much stronger. When the match began, I found this true. Control switched back and forth between us. Throughout the match, my headgear kept falling over my eyes, blocking my vision. After three full two-minute periods, the match was over and I was declared winner because I had more points. I had a perfect record of 2-0.

The bus ride home was great. Everyone talked about their matches, and they praised me for my performance and perfect record, which at that point was the best on the team. When I got into the car, I told my parents about my wins. They could not believe it. The next day, my friends reacted much the same way.

"Uh, oh, Affan is a big wrestler man now. Y'all better watch out!" one friend commented.

Winning my first two matches was a great triumph. I felt like the little engine that could. I learned that if I work hard and believe in myself, I can overcome the odds, no matter what others said. This gave me a lot more confidence, and I felt very proud of myself. I realized I really can do anything if I work hard at it, even something as unlikely as me, a skinny 100-pound boy, wrestling.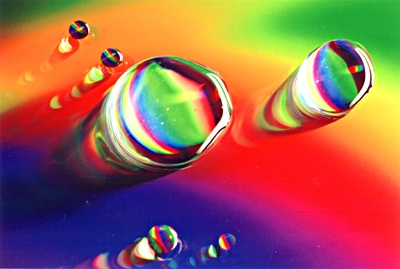 © Anonymous