Serenity
February 7, 2017
For several years, my mind has served as a persistent embodiment of chaotic thoughts. I've found it unfathomable as to exactly why this is so problematic to me. I've come to the conclusion that maybe I will never be able to truly understand why my mind is an ocean. Some people are born with thoughts that are as wide and as wavering as the Atlantic. It is all at once, a divine and agonizing ordeal. However, there is a resolution – for me at least.

While I am dreaming of meadows, supernovas, and flying among the birds, it is quite obvious that more of my thoughts are pure rather than poisonous. My soul and conscious are aware of the sunlight and all of its purposes. Warmth is provided to help us grow and ensure that we never shiver for too long at a time. In my perspective, the Sun has always been so much more. The Sun is both a blessing a curse. It will allow many to realize that the darkness does not stay for too long. There is always a new morning come sunrise. Tranquility floats endlessly throughout my soul whenever thoughts of this nature come to mind. Positivity will forever outweigh pessimism.
I have always had an intensified passion for the celestial aspects of the Universe. These particular aspects are an extensive influence to my spiritual awareness. I believe in the ability that the mind has the power to heal all wounds, including those of the heart. Sadness is only temporary. If true peace is found within myself, then I can make my life as luminous as the stars in the night-sky.

Being tranquil in emotions, in love, and in awareness are what I will continue to strive towards despite any obstacles, big or small. The beauty that comes from being serene is that of being whole. Forgiveness, compassion, joy, and more are all qualities that will accompany a state of mind as such. What more could I ask for? With love for everyone and everything around me, the world is a much more beautiful place. My outlook is only as optimistic as I perceive it. I choose calmness and love.

Even though I may possess a clouded mind, clarity will always prevail. The difficult aspect of having such a rooted conscious is that the universe will seem infinite while seeming limited at the same time. For the longest time, I have felt that I was at bay with myself, the world, the stars, and especially the thoughts inside of my mind. Serenity means to be in a state of tranquility or calmness. My efforts to be serene in every day life have not always been successful. However, it is with a peaceful mindset that I can truly accomplish the task of having a heart, mind, and soul that possess serenity.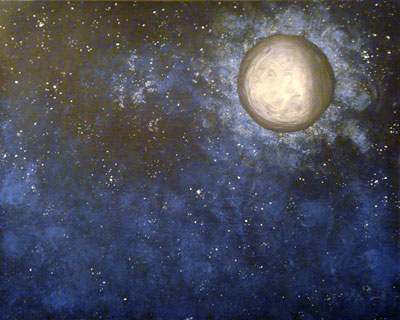 © Allison H., Vancouver, WA