Quite a Mouthful
MAG
January 22, 2009
There is a general consensus that I'm an unusual person. It's okay – I know I'm not all there. But what I lack in common sense and sanity, I make up for with my mouth.

What?! you're thinking. You've cracked. You're on drugs. Nope, but I will be soon. And the stronger, the better.

Okay, so I'd better explain before I have the police searching my bag for controlled substances. This all started a few months ago, when I had a slight dull pain in the back of my mouth, around where one of my wisdom teeth was supposed to be coming in. I didn't think much of it because it was a pain that I could live with for a while (like the throbbing I'm accustomed to from tripping up or down the stairs).

However, during the next few weeks, the pain became more constant and intense, spreading to my teeth, gums, and jaw. If you know me, you know that I whine a lot. Most of my writing (okay, all) consists of me complaining or ranting about something. But this time, I'm not just grumbling about a petty pain – I have seven wisdom teeth.

Yes, you read that correctly, seven – three more than a normal person. I've been called many things, and normal has never been one of them. I guess my mouth just wanted to join the party.

My initial reaction when I heard was to laugh, a lot. After all, it's just my luck to have extra something. I am an overachiever. My mouth apparently felt obligated to do more work than it had to.

After the laughter wore off, which took a couple of hours, confusion set in. Why did I, of all people, receive an extra set? I decided it was ­either all that milk I drank as a child, or I was turning into a vampire – except I don't think vampires have extra teeth; theirs are just pointy. For now, and probably forever, it will remain a medical mystery (maybe I could be on that show).

I lost my first baby tooth after biting into the softest roll possible. I've also been hit in the face with a soccer ball more times than I can remember. My teeth may be retaliating against me for not protecting them better.

Focusing on the positive, one of the great things about having extra teeth is watching people's reactions when they find out. Confused exclamations and head tilts are common, and so far I haven't grown tired of repeating myself.

The extra teeth are also a good excuse for me being tongue-tied. I can now blame my incoherent babbling on my overcrowded mouth rather than my slow brain.

Of course, with wisdom teeth come the intellect jokes. My parents have attributed my smarts to my extra teeth and not my hard work and possibly natural talent. They are suggesting, as my friends assume, that once the teeth are pulled, my astuteness will diminish to that of a five-year-old.

I've also given some thought to how I might profit from this situation. If only I still believed in the tooth fairy, I could rake in a lot of cash. Maybe I could sell my extras to someone in need. Advertisement: Seven teeth for sale, unused, in ­almost perfect condition, enjoy sweets, in need of new mouth.

I have been warned that there's a chance they may grow back. Maybe I can develop the new weird science of tooth farming. I could "harvest" and sell them. I may never have to get a real job. Like Midas and his golden touch, I will produce teeth at will. (Now that I'm rereading this, I'm starting to realize why no one has ever described me as "normal.")

Don't be fooled by my jokes; I am worried about the surgery, but not as concerned as I am about my behavior on strong painkillers. That should be an experience in itself. But really, isn't getting four teeth pulled bad enough? I have one for each day of the week.

Despite my slight contempt for them, I'm also going to be sad to see the Lucky Seven go. Yes, I named them; I've developed quite an attachment over the past two days that I've known of their existence. Once they're removed, I'll just be normal again, and who wants that? Certainly not anyone who plans to go into tooth farming.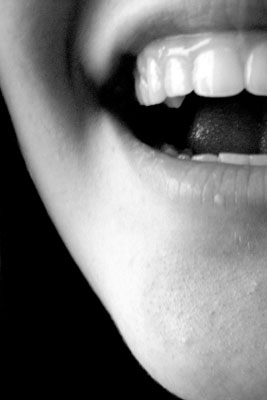 © Katya K., Westfield, IN