Misadventures in Publishing
MAG
January 27, 2015
Fellow aspiring writers, this is a cautionary tale about publishing. I felt obligated to write it because I know that for young writers, having adults recognize and publish your creation is a dream come true. However, for me, it played out more like a nightmare. Last fall, I toiled over an article that a major magazine with over 70,000 subscribers was paying me to write. Sounds great, right? But the result was a disappointment.
The article's focus was Paul Claus and Kurt Stuwe's expedition from Alaska to Northern Greenland by bush plane. While in Greenland, they retraced the steps of Alfred Wegener, the famous geologist responsible for the theory of continental drift. (The story, "Let's Go to Greenland," can be found on TeenInk.com.) I got the idea for the article after Paul, a family friend, sent a short e-mail describing the trip to my dad, who forwarded it to me. Reading the e-mail, I envisioned a glimmering retelling of his story, one that was exciting, intriguing, and above all, published. This would be new for me, having only written for my school newspaper and blog. I spent August pitching my idea to various publications and eventually found a buyer, a magazine that would pay me $350.
The initial elation of finding a home for my article was followed by the hard work of actually writing it. I made calls and did extensive research. Late nights spent at my keyboard and a definite decrease in social interaction gave way to a first draft that I was extremely proud of.
The next step, e-mailing my article to the magazine's editors, terrified me. Would they like it? Would these grown-ups be less kind than the teachers at my school? I am only 16, and I thought they might decide that my writing wasn't up to par. I soon learned that my imagination had gotten the better of me when in my inbox appeared a reply from my editor. She loved the article but wanted my 2,500 words cut down to 1,500.
So I began reworking my article, taking out the less important details and scrapping a few anecdotes. This was a painful process; every word felt vital to me. When I was finished, my second draft seemed a shadow of its ancestor, but it would have to do. It was nobody's fault that my original article was too long. That's just how the publishing world works. Each piece is allotted only a certain amount of space. Magazines do not tailor themselves to writers' work; rather, writers must adapt to the needs of the magazine.
The rest of the editing process went as expected, with my editor asking for clarification on some bits of the article, and cutlines for the accompanying pictures.
In early November, I was given a publication date of December 12. I didn't hear from my editor until December 2, when I received an e-mail telling me that my article had been moved to the publisher's Sunday newspaper instead and would be printed on December 7. My article would act as a teaser for the magazine's release. I was told that this was the result of cutting the size of the issue that my piece would appear in. This news didn't disappoint me; I was happy to have my piece published anywhere. However, I was quite disappointed after seeing a PDF of my article as it would be printed that Sunday.
It was fraught with errors, and I'm not talking about small grammatical errors. I'm talking about literary goiters that slapped you right in the face. The subtitle misspelled "retracing" as "retracting." An article about a painter was thrown in with mine, with nothing to distinguish where one ended and the other began. There were some nonsensical sentences, one of which was only two words long: "They questioned." The errors would've been comical if they weren't so disheartening.
To top it all off, the article had already gone to press. There was no way of repairing the damage to my hard work before it was placed on the doorsteps of thousands of readers. Nestled in the pages of the newspaper would be an article bearing my name filled with mistakes that were not my doing. I cringed at the thought.
I sent an e-mail to everyone involved in the publication of my article, asking what could be done about the mistakes. I received an e-mail reply from a vice president at the company. She did not apologize; rather, she instructed me to call her to "discuss next steps." I did, and we decided to republish the article the following Sunday. Accompanying it would be a note explaining that it was being republished because of its original errors. She said that mistakes like this happen, as if to say that it is normal for an article to be butchered during layout.
They sent me a revised version, and while the old mistakes were gone, new ones had appeared. Although the article had been reformatted to fit the new page, the hyphens from the old line breaks remained. As a result, there were random hyphens in the middle of words (i.e. "enthusiastical-ly"). Fortunately, I was able to notify the editors of the problem before the article was republished. It was astonishing that they, again, hadn't proofread my piece before sending it to me. These grown-up editors, whose knowledge and prowess once terrified me, now seemed incompetent and lazy.
I'm not saying that I think I'm better than those editors, or that I am free of fault. I was just disappointed that all of my hard work was rendered pointless by people whom I had admired and expected more from.
I'm sure I'm not the first writer to be unhappy with the published version of his or her work, and I am sure that I won't be the last. However, I do think that I approached this new experience of publishing with a certain level of avoidable naivety. I assumed that putting my work in the hands of professionals would automatically yield a perfect result, but I was wrong. I lost my grip on what I had written because I was blinded by the excitement of being published.
Young writers are very susceptible to adults' opinions, and while it is wise to follow their counsel in most cases, it is not always necessary. If it is your work, your voice is more important than anyone else's. You shouldn't allow what you've written to be published unless you fully believe in it, unless you stand by it, and unless you are proud of it. See your work through until the very end, because in the end, it's your name in the byline, not your editor's.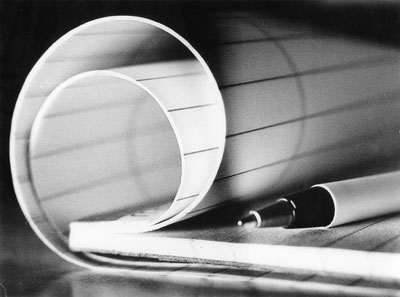 © Samantha M., Bethel, CT