Bittersweet
MAG
There it was again, that huge lump that gets in your throat when you're about to cry. I had just walked into our guest room and saw my brother's belongings packed and ready for college. A room normally so bright and fresh now seemed uncomfortable and upsetting. It was too much to take in at one time. Someone who had always known me better than anyone wasn't going to be there. How could this be? Whom would I go to for advice? Who would be the one to make me feel better with just a few words? These thoughts were unbearable and overwhelming; I had to get out.

I walked quickly out of the room holding back tears. I knew I had to be strong for my mom, for my dad, and especially for my brother. We were heading out for our last meal together since he was leaving the next day. I knew I should have been happy so that I could enjoy our final moments, but I felt all tight and uncomfortable inside.

When the dreaded morning came, it seemed as if I weren't really there. It was as if I were watching myself from somewhere else.

We arrived at Longwood University and it was crazy. There were cars everywhere and people running like a herd of elephants. Lots of noisy students were moving cartons into different buildings and belongings were everywhere. Unfortunately, my brother's room was on the top floor, and since the elevators had a line from here to Mississippi, the stairs were the quickest option. I filled my arms and trudged up the stairs. After a few trips, by which the time my body felt like Jell-O, everything was in his room and set up.

It was time to say good-bye, and then there it was again, that lump that gets in your throat when you're about to cry, except this time it was bigger than ever. We all stood around the car saying our farewells, and before I knew it, it was my turn. My brother leaned forward and gave me a hug. At this point I broke down. He whispered in my ear to take care, do well in school, and that he loved me. I opened my mouth to speak but nothing came out. I just made a small "mmm" sound and backed away. We got in the car and watched him walk off.

The whole way home, I cried. I cried because I no longer had my best friend with me. And what would I do when I had a bad day at school and needed to talk? Or when all my friends left me out, who would I hang out with? It was all so much to take in. I never thought I would be all right.

It has been a year now and I am doing better. My brother is really happy at college, and since he's so happy, I'm happy. Yes, I miss him more than most could even imagine, but I needed him to go so I could grow up and learn how to get through life without him. I write him every day and when he comes home it is as if he never left. My brother and I, a past ... a present ... a future.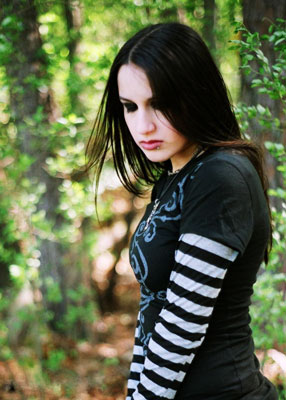 © Anonymous