Roller Coaster Ride
MAG
We are lectured about peer pressure in mandatory health education class. We are told never to give in to it. "Just because everyone else is doing something does not make it a good idea," they say. Yes, I know that I shouldn't smoke. No, I won't do drugs even if all my friends are doing them. But what about those other things? For me, peer pressure has always turned out okay.

***

I had never been on a real roller coaster. Fear of speed, fear of heights: They just weren't for me. The closest I had ever gotten was a kiddie-coaster when I was six. It was probably six feet tall, but I made them stop the ride before we even got up the first slope. Another time, I went with my family to Legoland, an amusement park definitely not known for terribly frightening and life-threatening rides. I had gotten to the first slope when the car stopped. Thank God for "technical difficulties."

So, today I was tagging along with my dare devil, 53 mph roller-coaster-riding friends. As they stepped off the ride, they all tried to persuade me into following them onto the next one.

"Come on, Lisi!" Jennifer coaxed, "You're so boring! Just come with us on the stupid roller coaster!"

This wasn't the first time I had heard this plea. It had happened at the pool's diving well, the Japanese restaurant, and even when I got my first bike. In every situation, my friends had been right there to tell me what a wuss I was, and convince me to try something new. Now, of course, I love diving, order sushi every time we go to a Japanese restaurant, and ride my bike to school every morning. But no, this was different. A roller coaster was just too much. Still, my friends worked to convince me.

"It's not that scary," added Jackie. "I'll sit next to you."

"Look: This is the slowest ride in the park!" Christina pointed out. "If it went any slower, it would just be a train on bumpy tracks."

Finally, I gave in and agreed to get on the roller coaster, although I still wasn't sure. Of course everyone had come out alive so far, but you never know what will happen.

They'll see, I thought. They'll be sorry when I fly out of the seat, catch on fire and land in a forest. They'll be sorry.

As we stood in line, I got more scared. "I don't know, guys," I worried out loud. "It looks really big from down here." Finally, we reached the front of the line. I sat in a seat with Jackie and vowed that I would not let go of her hand until we were safely off the ride.

I was getting more scared by the second. I squeezed Jackie's hand so hard I was sure I heard her yelp. As soon as we started moving, I began to scream. Every single person on the ride looked at me as if to say, "What is her problem?" We started to climb the slope toward the highest point of the ride.

Ka-klink-ka-klink-ka-klink-ka-klink.

I squeezed her hand even harder. I squeezed it so hard that I can't believe she still has a hand. I knew I couldn't make them stop the ride now. I was done for.

WHOOOOSH!

It felt as if something in the tracks had snapped. We started falling - falling fast. The wind blew so hard it seemed like my face would blow off. I screamed so loud I couldn't hear myself anymore. Oh my gosh, we weren't going to stop! We would crash through the thin wooden paneling. I knew it. This had been a terrible idea. I closed my eyes and held on for dear life, never ceasing my high-pitched scream.

CLUNK!

The ride came abruptly to a stop. I opened my eyes. We were back where we started! I hadn't died!

I stepped off the ride, stumbling slightly, weary and disoriented. My friends looked at me, searching for my reaction.

"Can we do that again?" I croaked.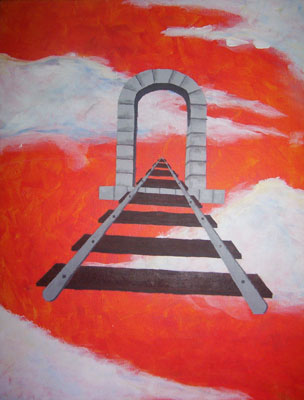 © Anonymous