The Funeral
MAG
As I slowly filed into the main room of the church behind my mother, the first thing I noticed was the number of chairs. For some reason I had thought it would be small, that not many people knew Jonathan or would come to his funeral. As it turned out, I couldn't have been more wrong.

As we made our way to our seats, I saw people offering their condolences to Aunt Lisa and Uncle Mike. Hearing those words of compassion made a few tears leak from my eyes. I hurriedly brushed them away; I didn't want to be seen crying before it even began!

It took some time for everyone to get seated, and the place was packed. I didn't know a lot of the people, but I guess they had heard on the news and had come to give support and express their sorrow to Lisa and Mike.

Once everyone was seated, the service began. First Bible passages were read. Then Lisa and Mike got up to tell everyone how they had handled and would handle the death of their autistic 13-year-old son, who was my cousin.

One of the first things they said was that they had forgiven the two men considered responsible for Jonathan's death, whether or not they were found guilty. I was slightly surprised to hear that. I knew my aunt and uncle were very religious, but I thought it would take them time to forgive their son's killers! They also said they were going to use this terrible experience to help autistic children everywhere.

At this point, Lisa couldn't keep it together, so they let others speak about their experiences with Jonathan. The first woman knew Jonathan pretty well. Her words made me smile and remember Jonathan at our family gatherings. "Pretty much anyone who knew Jonathan knew that his most famous line was 'Where ya goin'?'" she said. "He was always wondering where people were going - even if they weren't going anywhere."

In my mind it was suddenly Thanksgiving again at my grandparents' house, and I was walking inside after a long and exhilarating game of pickle. I felt a hand grab my arm and a voice say, "Whereyagoin?" in an I-say-this-all-the-time-so-I-slur-my-words kind of way. I turned to see Jonathan's kind face, full of wonder. "I'm going to get a drink, Jonathan," I replied. He almost immediately ran off to ask someone else where they were going. I chuckled good-naturedly, knowing he would be doing that for a while.

As this happy memory flashed through my mind, someone else who had been close to Jonathan got up and spoke about my cousin's love of horses. This sparked a bundle of memories, but one rose above the rest. It was probably the happiest I had ever seen Jonathan.

Most of my mom's family had gone up to the big racetrack in Saratoga. It was before the official season, but horses and jockeys were practicing. As we approached, we could see horses being groomed. Jonathan went pretty crazy when he saw that. But later, when the horses actually came out on the track, he went totally ballistic. He ran right up to the fence to get the best possible view and shouted, "Look, look! Horses!" even though it was impossible to miss them. His face shone with pure joy, his mom and dad were beaming, and we all had to laugh lovingly at his enthusiasm.

Suddenly I really began to tear up. I felt a lump, sharp as a needle and big as a golf ball, rise into my throat, and tears flowed from my partially closed eyes. I tried to stop, but it would not be stemmed. I didn't want to think about how I would never see Jonathan again, no matter how annoying he had been at times. I didn't want to think about when Mom first told me how Jonathan had died. And I especially didn't want to think about how two trained men hadn't noticed that one of their students had stopped breathing. But it all rushed through my mind regardless.

When I first heard that Jonathan was dead, I was shocked and in disbelief. But when my mom explained how he died, I was totally astounded. She claimed that while his special school's drivers were out doing errands, with him and another autistic kid in the back of the van, Jonathan had a "fit." The helper went back to restrain him so that he wouldn't hurt himself. But apparently he did it incorrectly and somehow Jonathan stopped breathing. No one knows exactly what happened, but Jonathan died. The autopsy showed that almost an hour and a half passed before the drivers did anything about it, stopping at other stores before returning to the school. I didn't, and still don't, understand how two men trained to help and work with kids like Jonathan could have done such a thing, but they did.

Later, they had a slide show, including just about all the pictures ever taken of Jonathan, which was nice; I really liked viewing all these moments in his life, some of which I had never seen.

Then it was time to bury him. The whole group trooped out to their cars and drove to the cemetery down the street. Once everyone was at the grave site, the minister said a few final words. I could see everyone - some were jerking slightly as they let out their sobs. Others were straight-backed, trying to appear strong, though they failed in their faces; their sorrow was clearly etched in their eyes.

I suddenly realized just how short life can be. It all ended so quickly - he wasn't sick or anything. I realized that life can end at any time. All of a sudden, when you least expect it, someone you love can be gone. It made me sad, but it made me want to cherish everyone I loved all the more. Most of all, it made me want to remember Jonathan and the whole ordeal of his death.

As I walked back through the muddy path to the car with my dad and sisters, I saw the massive number of footprints stamped hard in the trail, and I smiled. There really were a lot of people who cared - so many more than I had thought.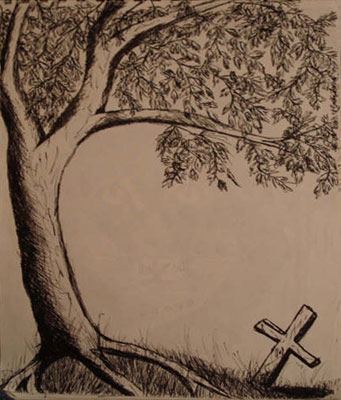 © Anonymous