My Piece of Paradise
March 7, 2014
Last night, due to a full-out blizzard, school was canceled again. (That's another thing this winter taught me – if there's the slightest chance of a snow day, bring everything in your locker home.) Yet today was 35 and burning bright.

So I went for a walk. Not the first winter walk I've been on; I do love snow. But this was the first time I went out where the sun shined, the snow sparkled, the clouds only painted their blue canvas instead of dominating them. With my Kindle in my purse shuffling Pentatonix, I ventured out into the warmest day in months.

The sun's reflection brought our river to life – if not for the pounds of stubborn snow on its sides, it would look like a summertime stream. It was so shimmery, even as spring clearly wasn't due for another month. The ground itself sparkled white in the sun.

This was all so...contradicting. The sun generously warm on my face and orange behind my eyelids, while my shin-high winter boots trench through snow deep enough to numb my knees.

God, I couldn't get over this...this smell. The best thing I can compare it to is a swimming pool. That's what the atmosphere was like. Just imagine entering the pool area, setting your towel on a beach chair and kicking off cheap flip flops, anticipation practically unbearable by the time you feel cold the excess water splashed up out of the pool on your bare feet. Imagine all of that, without the humidity. I was technically surrounded by water, so this can't sound too ridiculous.

And hearing the first birds begin to brave these merciful elements – land on the ground then quickly fly off as if forgetting – I believe this was the scent of melting snow.

I've found the perfect writing position: on this board stuck between two trees, apparently two and a half feet above the ground (two feet of snow, half a foot beneath a board - I can do certain math without being in a classroom). My back is against one tree, my feet pressed against the other, my purse is hanging from a branch, and I face my sparkling river with MemoPad opened on my Kindle. I must've been out for an hour, it being four, with clouds drifting back in front of the sun.

The cold is gradually returning, numbing my pale finger eagerly typing this, capturing this. My paradise, my middle-ground, the perfect balance between hot and cold. It's unbelievably, unimaginably perfect…

That's what I want to do. I want to find that perfect balance between fact and fiction, good writing and original story, pour it onto a page for the world to see. And on the side, I'd like to live there, in my mind, maybe invite a friend to bask in its beauty with me.

Although that's pretty large-scale, I'll very much accept this small victory in my backyard.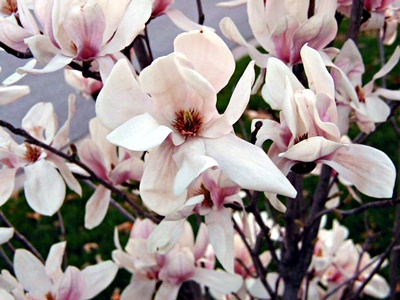 © Brad H., Lemont, IL