9 Helpful Hints on How to Enjoy Yourself at the Movies
August 29, 2013
It's time! After months, possibly years of anticipation, your movie is out. Maybe it is an adaptation of an awesome book, or a sequel to your favorite film. Whatever. It's here, it's now, and you're psyched. To be sure that this is one of the most enjoyable moments in your life, here are nine simple tips to having a good time at the movies.

1.
Don't buy any goodies. If you're like every other normal movie-goer, you'll want to be riveted to this film for every second. After all, you've spent forever anticipating this. The sound of crackling popcorn in your mouth will be a horrible disturbance, as will those inevitable attempts to neatly lick all that buttery goodness off your fingers.

2.
If you simply must have some snacks, DON'T BUY THE STUFF! A small popcorn costs nearly five dollars, and that's not counting the soda or water you'll be needing as well. Bring along a large tote or purse and sneak in bags of chips or Cracker Jack. Don't worry. The odds are against anyone checking your bag. They're too busy watching the movie trailers on that tiny screen in the corner of the lobby.

3.
Always bring a water bottle with you. Always. I will get to the purpose of this necessity in a few.
Every single movie-goer has one thing in common; an excessive fear of having your view blocked by someone twice the height of the seat. It's a terrible reality that every person who has gone to a theater must undergo. It's inevitable.
That is, if you don't read these next few helpful tips.

4.
Find a seat in the balcony and sit right at its edge. This is a sure way to keep your view from being blocked.

5.
If you are unable to find a seat in the balcony, talk REALLY loudly with your friends/family before the movie starts. This will deter any smart person from settling themselves within at least two seats from you. What if they talk like that during the movie??

6.
As an extra precaution, take the water bottle from earlier and dump its contents over all those seats in front of you. And if you're looking for amusement, warm up the water before you get to the theater.

7.
If a person is so insistent that he will still take the place in front of you, start chattering on and on about things like "the end of the movie . . ." Even if you don't know what it is, this tactic is sure to make any unwanted head move from your field of vision. Or turn around and tell you to shut your mouth. Either way, it's entertaining.

8.
This last, desperate measure is not only effective. It's fun. Act sick. Yeah. Lean forward into that person's hair and start coughing, sneezing, and emitting all sorts of slobbery noises that you aren't allowed to make at the dinner table.

9.
And lastly, keep your movie ticket. Many people tend to just wrinkle up their tickets and drop it into the nearest garbage can. What good is a slip of barely written-on paper like that, anyway? Much good, actually. If you keep all your movie tickets and tack them onto a corkboard, you'll remind yourself of every time you've followed these tips and enjoyed yourself at the movies.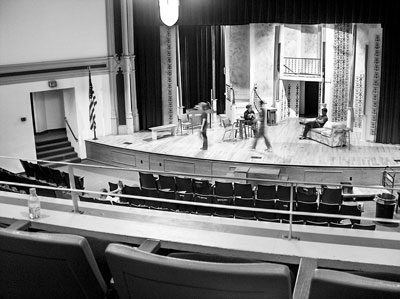 © Sean C., Princeton, IL