Udasi
MAG
July 28, 2013
The sun shines boldly in the sky, an evanescent mango warming the vibrant Indian city of Bangalore as we awake from our temporary, yet eternal, slumber. I glance around the room; it hardly looks like my room back in Connecticut – no fancy wallpaper, no wooden desk or desktop computer. Just a soft bed and a hard granite floor.

It has been less than 24 hours since my parents, my younger sister, and I stepped off the Air India jumbo jet and took a rickety auto rickshaw to my aunt's home, just outside the city center. Even at 12:30 a.m., she, like all other Indian women, welcomed us with open arms, exaggerated kisses, and a mountain of steaming hot chapattis.

The jet lag has yet to wear off, but my mother, a native to Bangalore, is eager to embrace both her roots and the inexpensive jewelry stores scattered along the sidewalks. It is only 10 a.m., but I am dressed and ready to begin my Asian expedition. My seven-year-old sister is hoping to ride an elephant before the sun sets.

After gulping down some homemade dosas, we bid farewell to my aunt, who is already planning the dinner for tonight. I love her, but that doesn't mean I forgive her for trying to fatten me up.

My mother pushes the rusty gate open and with a wave of her hand summons another auto rickshaw to take us wherever her heart desires. Little does she know that what we will see on this outing will stay in our hearts for years to come.

At night, the city is a conflagration of lights that blind you just as the hot air suffocates you. The roads blend into the Earth itself, and the citizens traverse them like silent phantoms. During the day, however, one can see everything. For us, this is more of a curse than a blessing.

The streets are dirty, loud, and congested. Cars and trucks crowd the roads, spewing black dust from tailpipes and emitting deafening honks. Garbage is scattered on sidewalks, and crumpled newspapers dance like tumbleweed. Stray dogs wander, untamed and malnourished, eating anything they can find. They, too, are victims.

The rickshaw driver thinks nothing of all this, having lived here his entire life. He is used to the sirens and the smoke. My mother, however, who emigrated 15 years ago to start a life in America with my father, is aghast, Her face, normally the warm color of caramel, is ghostly pale, and her hands are shaking.

This is not the city she grew up in. This is not the place where she formed friendships, where she worked as reporter for The Times of India, where she and her brother and sister played hide-and-seek and cricket. It is a nightmare. As I look at her shock, I realize that this is the first time I have ever seen her cry.

My father, who grew up in Delhi, silently holds my mother's hand. I am sure it is as shocking for him as it is for her. This is not the India he knows. This is a manifestation of human suffering.

The auto rickshaw drops us off on a side street, then sputters away, leaving behind a grimy trail. My mother wipes her eyes and begins walking.

For me, this experience is nothing short of eye-opening. Having grown up in a small suburban American town, I have never witnessed such conditions. Even my adventures in New York City and Boston could not prepare me for the rows of panhandlers lining the alleys here.

Clad in dirty shawls and loincloths, these people are the epitome of sadness and make up a large percentage of the population. Many are small children with wide, helpless eyes. These children will never receive a proper education, and it is only a ­matter of time before their relatives will be taken away by disease or famine and they will have to fend for themselves.

Their hands are outstretched, begging for a droplet of compassion or sympathy, but I have no change to give them. At one point, a child crosses my path and mutters something to me. Her eyes are a cloudy gray and her body is covered with soot and dust. Sadness overwhelms me, but I have no choice but to dart around her.

Many of the homeless are older, with shaggy hair and long, scruffy beards. Some are missing limbs. This is perhaps the most shocking of all.

The comforts and privileges of America can't prepare you for a sight like this. How can anyone live like this? How do people get up each morning, knowing that they are trapped in an inescapable rut of poverty?

I close my eyes, but the images are brighter than ever. This is reality.

My mother, her head bowed with shame, pulls us into a dingy but comfortable tailor shop. The workers appear oblivious to the painful scene outside. They have their own lives to lead.

I see my mother whispering
something in Hindi to my father: Udasi. While I cannot speak the language fluently, I know that it means "sadness."

My sister is in my father's arms, her face buried in his shirt. I wish I were small enough to do that too.

While my mother wanders around the store, I look outside. Across the street sits an old woman, her hair tied in a loose bun. Her body is fragile, and her ribs are visible beneath her shawl. Her spectacles are cracked and lopsided, and I can see her lips moving.

I slowly leave the shop and walk toward her. She is muttering a common refrain in India, a simple word that keeps the heart beating and the mind at peace in the darkest times: Om. And as she says it, basking in the light of God and the rays of hope, a tear slides down her cheek. She reaches for my hand, and I allow her to touch me, to feel the life of a fellow human being.

I smile and join in her prayer.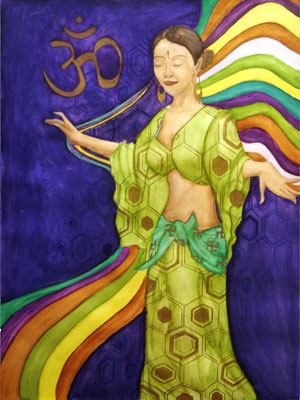 © Elisabeth C., Great Falls, MT