Home Alone
MAG
The sky was pitch black, the house was creaking, and I still had four hours until my parents got home. Locked in my parents' room, I turned on the TV full blast so I wouldn't hear the creaking house.

I barely heard the phone ring. I picked it up and said, "Hello … hello …?" but there was no response. I knew someone was on the other end. Finally, I hung up. A minute later, the phone rang again; still no one was there. I became more frightened as time passed; the same ­person called five more times.

At this point I didn't bother picking up, but the ringing continued. To get my mind off this prank caller, I called my friend. She told me not to worry and to turn the phone off. As we talked, I heard someone pull into the driveway. When I peeked out the window, I saw an unfamiliar car.

Thirty minutes passed and the car was still in my driveway. It drove up and down the drive as if aware I was watching. My friend told me to call the cops, but I refused.

Soon the phone calls started again. I heard noises in the background, but I couldn't tell what they were. I really didn't want that person to get out of the car and start toward the house. If they did, I didn't know what I'd do. None of the doors were locked, and I would have no way of protecting myself. The only thing I could do was hide, which wasn't a very good plan.

At this point I was considering calling the cops, but my friend offered to drive by. "Maybe if they see me pull in, they will leave," she suggested. By the time she arrived, the car had left. The phone rang again and I picked up, thinking it might be my friend. Someone on the other end said "Bye-bye."

At that point I wasn't as scared as curious. Since then I have not stayed home alone and I probably never will.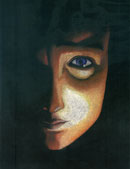 © Anonymous