Too Much
January 4, 2013
She felt trapped. Caged in, cornered. It wasn't the T.V, blaring canned laughter at her, the pop music at full blast in the next room, drowning her in the digitally altered voices of the trendy young stars, or the glaring light of the phone next to her, it's owner scrolling through an endless supply of photos. It was the combination, everything, with its sound and its screen and its light, pulsing, pulsing, pressing against her, blinding her, suffocating her. She wanted to scream, to fling her arms outward and then push everything away, then curl up into a ball to protect herself from these invisible demons.

But she did none of these things. Instead, she escaped, as if from a sinking ship; to the safety of her closet. It was her haven, her asylum. The flashlight that was her sum shone with a gentle, natural glow, its light glinting of the wood walls. Nudging the door open a crack, she let a sigh of relief escape her. Here she was safe, protected. Nestles into an old blanket and surrounded by books, she could write, touching pencil to paper and watching the words within stream free into the world, at times a steady flow, at others a roaring cascade.

At a sudden movement outside the walls, she tensed, ready to launch a vicious counter attack should someone breach her fortress. The noise revealed itself to be the dog's padding footsteps across the carpet. It let out a snuffling sigh and fell asleep. Twitching gently, moving its legs and raising its nose, it seemed to be dreaming of a time when it could run and chase and play. Asleep, it was free of the body that hindered it in old age. She was jealous of the way it escaped the over stimulating world whenever it wished, while she had to wait for night to be truly free.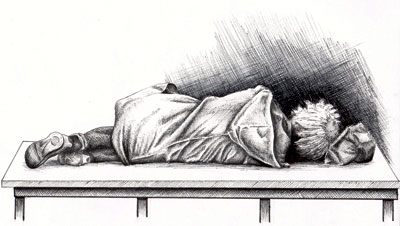 © Devin N., Sherrills Ford, NC