The New Kid
November 25, 2012
In third grade, I became the weird new kid. No one knew me, and I didn't know anyone. The people were strange-looking. They had light colored eyes and hairstyles which were impossible to reproduce in the humid climate of a tropical island in the Caribbean. I remember being completely ready for the start of school in the United States. Brand new Levi's, shirts and school supplies. There was just one problem. I couldn't speak a drop of English.
Actually, I lied. I could speak some English. I knew how to count and say all my colors. On top of that, my brother, sister, mom, and dad taught me a few phrases before the start of school.
"Hi! My name is Andrea. I'm in third grade."
"Can I please go to the bathroom?"
"I ride bus number 2."
With these phrases well imprinted in my mind, everything was sure to go off without a hitch. . . Right?

The first day of school, my parents walked me to the classroom. I noticed that there was air conditioner at my school! That was unheard of in Puerto Rico. Outside the room, were two girls and one boy.

I let go of my dad's hand, walked right up to them and in my Spanish accent said, "Hi! My name is Andrea!"

The boy spoke first. "Hello! I'm Brennen." Brennen? Strange name. I decided I'd pronounce his name Brandon, like a friend I had back on the island.

A girl with short black hair and glasses spoke next. "I'm Kelsey," she said.

Then the last girl with long, straight blonde hair introduced herself. "And I'm Michaela!" she informed with a smile. Brennen? Kelsey? Michaela? Those were the strangest names I had ever heard.

Class started and a tall, blonde haired teacher stood in the front of the room. I'd never had a blonde haired teacher before. "Hello class, my name is Ms. Duthie." Ms. Duthie had us play a name game so that she could learn our names. We sat in a circle, and one student said their name. Then the next person in the circle said their own name and the name of the person before them and so on. I was twelfth in the circle. When it was my turn, I forgot half of the people's names, and butchered the pronunciations of the other half.

I quickly realized how out of place I was. No one insulted me, or said anything, but I could feel it. I was unorthodox. On the spelling tests, I would spell 'book' as 'buk'. My pronunciations were atrocious, and I was incapable of remembering anyone's names, including that of my own teacher. I was different.

One day, the class practiced reading time. Ms. Duthie had a large foam clock and she moved its great hands to read 7:45. "Andrea, what time does this read?"

"Seven forty-five," I answered.

"Good!" She said and rearranged the hands to read 2:04. "What about this?"

"Two o four!" My happiness increasing with my pride.

"Great!" she smiled. She changed the time on the clock again to say 6:30. "And this?"

"Six o thirty!" I said eagerly.

Ms. Duthie shook her head. I looked at the clock again. It was unmistakable. It said 6:30.

"Six o thirty?" I guessed again.

"No, look closely." She pointed at the minute hand.

The kids around me tried to whisper something to me but it made no sense to me. "No o!" they seemed to say. "Nooo ooooooooo!"
I didn't understand and yet again I deduced, "Six o thirty?"
"No o!"
"Oooooooh!" I'd never felt dumber. "Six thirty!!!"
"There you go!" Ms. Duthie congratulated. I was glad I'd realized my mistake, but I felt a wave of embarrassment spread through my limbs at having made such a stupid mistake in the first place. That experience along with all my other confusions led me to make a decision. I was going to learn the language. I was not going to be that weird kid anymore. My parents advised me to begin to read. So I did.
The first book I read in English was a child version of the Swiss Family Robinson. From the same collection, I read Tom Sawyer. Soon after, Dr. Jekyll and Mr. Hyde. In a matter of a few months, I had swam through the pages of Huckleberry Finn, Moby Dick, A Christmas Carol, Oliver Twist, and a collection of Edgar Allan Poe stories. It made a big difference.
I found that school became easier, and much more fun. If you asked me to spell book, I could say "B-O-O-K" without thinking it twice.

A while later, Ms. Duthie discovered that I was an exceptional math student, leading the multiplication tables' race. Nowadays, I know why I was so good at math. The language is international and the numbers and processes would have stayed the same no matter where I'd moved.

It did not take long until I was excelling in every subject. Social studies, reading, writing, math. Easy. When CSAPs came along, I was ready. I sat in Ms. Duthie's soundless classroom listening to the instructions for the test. Then a woman entered the room and told Ms. Duthie that I was to take the test elsewhere. I was lead to a small classroom with five other students. They explained to us that we had an hour and a half to take the test instead of the one hour that most students had. I didn't think much of it at the time, but now I know that they believed I needed the special attention. I am not sure if I should be grateful or a bit offended. I finished those standardized exams in forty-five minutes tops and had to sit there for an extra forty-five minutes and watch as the other kids finished their tests. To put it plainly, it was excruciatingly boring and to top it off, when the test results returned, my scores were not counted because I scored too high.

I was glad when I was able to return to Ms. Duthie's classroom environment. I felt welcome and accepted for whom I was. Despite my accent and mispronunciations, I knew I belonged in that class. This isn't the story of the struggles of some foreign kid, but a story of how that foreign kid overcame those struggles and was able to rise to be the best she could be. With the support and help of my family, teacher, and select group of friends, I knew I could overcome anything.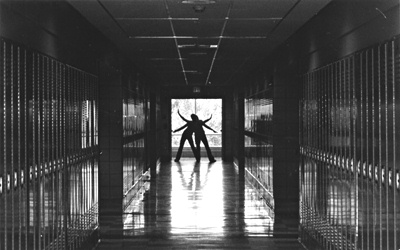 © Sheera G., Marblehead, MA