Why Do I Write?
November 4, 2012
Why do I write?
Because I like my handwriting?
Because it's supposed to make me smarter?
Because I have nothing better to do?
If you walked up to me and asked me this question, I would waste so much time trying to find the perfect answer. I would be so lost in thought, that the most you got out of me would be, "Hmm... Well... I'm not sure... I guess I write because..."
If you walked up to me and asked me that question, I would say all of those things, and leave you without a legit answer. Then, I would go somewhere quiet and I would still be pondering your question. Next thing I know, I would have a pen and paper in my hand and would be writing my answer. I would give you the best answer possible.
After you would have read it, you would ask me, "Now why couldn't you just say that." Then we would be back to square one and I would be thinking.
Now don't get me wrong, I am opinionated, and when I want you to know something, I will tell you. However, when it comes to personal questions like this; questions that make me think, no amount of words that I speak can show you how I really feel. So I write it down, and it comes to life inside of me.
So if you walked up to me, and asked me to write down my whole reason behind writing, I would do just that. When I'm finished, I would say, "Here," and give you the paper back.
When you looked down at the paper to read it, it would say that I write because it's the best way to express myself. Writing is the best way to let you inside my mind and life, and show you what goes on in my head.
I'm not a good public speaker; I stutter and constantly wonder what to say next. I get so tongue-twisted and everything goes wrong. But when I have a pen and paper in my hand, that all turns around.
I write because it's how I express myself. It's not because I have to, or the fact that it can make me smarter, or just because I'm bored. Writing is the way to express myself and show the real me.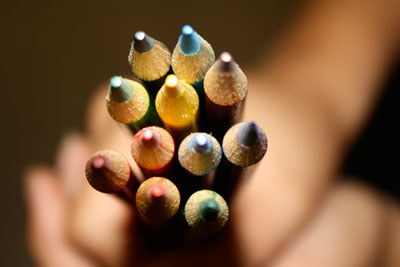 © Krista S., Newport Coast, CA