Wasting Away
May 19, 2012
Her hands ran through her hair as she listened to her teachers talk. She knew that they were talking about her, but at this point she didn't care, no amount of lectures could change her at this point she was to far gone. Living in a world of depression, and cigarettes. She would be into harder stuff, but she didn't want to live on the streets. On her own at seventeen was hard enough, she didn't want to go through anything else even worse than that.

Her eyes looked up as she walked into the office she saw her counselor and her band teacher, and her principal. Figures... he was always "concerned" about her. She came to class smelling like the cigarettes she smoked, and it was obvious she was giving up on herself. She was slowly fading away, and turning into someone she never thought she would be.

"My heart goes out to you in your situation, and I am glad to see you're trying..." Her principal started. She wished she had something to tune him out, she was beyond caring for her life at that point. And like always these meetings seemed to be taking forever. She sat there patiently looking at her feet, not wanting to look at anyone. Her own mother didn't care why should they? Her mother picked drugs and stuff over her, even going to the bar after she had surgery.

The girl felt like she was nothing, she didn't even feel worthy of a name. She felt like a blob of skin and bones that just was there taking up space and breathing. She found comfort in somethings yes, her saxophone, and her dog being some. But she had no where to go, no one to turn to. She wanted nothing more than to be with her mom, and to have things the way they use to be. But she knew that things weren't going to change.

Later that day the young girl was in the band hall, it was just her and the other bari sax player. They hardly talked. She tried to not show emotion much. Her eyes were at her feet like usual, and he looked at her and started a conversation.

"I hear you all the time complaining, about all these things,you don't realize what you have standing right there, be happy you have a place to stay. You should be grateful for everything you've got, do you know how many people don't have what you do?" He snapped at her... The girl looked down at her feet, trying to not cry and snapped back "you don't know what I am going through, you don't know how hard it is for me right now. Do you think I wanted to be like this, in a world of hurt, with out anyone supporting me, with out my parents around? I am just now getting out of an abusive situation into another one..."

The young man looked at her and realized that she was starting to waste away, and he sat down next to her and said, "you may not feel like anyone in the world cares about how you think or feel,but if you were to go and do something right now and end your life, you'd actually be affecting a lot of people. Believe it or not, you impact the lives of others around you even if you think you do or not." And he walked away leaving her there. The hurt and the pain the girl had been trying to avoid by smoking, and doing things she shouldn't came to a point. She looked down at her feet and wiped away her tears, wishing the young man would come back. Even though his words hurt, it brought her back for a moment, from the soul that was wasting away.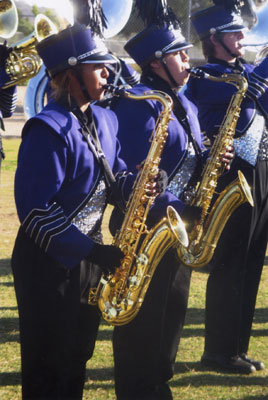 © Laurie R., Phoenix, AZ