Everybody Scream! >:]
May 7, 2012
SCREAM!

Its Halloween night. It's my favorite time of the year. Everyone dressed up in their costumes. It's the only time I can wear anything I love without being judged or stereotyped by anyone.
I stand outside. Wearing what I usually would wear every day. My dark purple laced corset, tattered pure black skirt, and my black knee high buckled-up boots, while holding a big bowl of candy. I sit there on my porch handing candy out to any kids daring to come up to be.
I get bored after just 30 minutes of handing out candy. I go in the house and start to make some face blood. A mischievous smile crept across my face. It was almost finished; it just needed to be a little thicker and a darker red. I added more red dye and some flour for thickening.
~Ding dong ding~ the doorbell chimed. Ah this was my chance. I put in my red demon eyed contacts, then I cover sports and drops of the fake blood on to my outfit, and a little on my face. It was almost perfect except I need to walk like the undead…
I ran to the door and opened it.
"Trick-Or-Treat!" said 3 kids all together. Then they looked to see who had opened the door.
They stared at me with fright. Just a few seconds of looking at me they ran screaming for their lives.
I dropped to the ground laughing so hard I couldn't catch my breath! It felt good to actually have some fun since Valentines. Too bad it ended.
Then my so called "Brain" had a brilliant idea!
I grabbed my cell phone and called my friends to rush over here now and to bring some good tattered clothes.
They all got here around the same time. I explained what my plan was. They all got changed, and then I splattered to fake blood on them all. It was 6:25 pm when everything was done and prepared.
We all headed out walking like the undead, looking mindless, and murderous.
Kids strayed away to the other side of the street. Some wouldn't even look at us, some stared like we were going to murder them at any second.

Oh it gave me a great feeling!
After an hour of walking around like this we all were getting hungry. We all decided to head up to McDoodles.
We walked right up to the cashier. He was staring and like everyone else in there were staring at us wide eyed and mouth open.

It made me laugh. HAHA! I said and ordered my Zombie Crew their food.
We continued to walk around like the undead until it was 8:38 pm. But my Zombie Crew and I stayed the night a one another house for the night.


This was the best Halloween I've had my whole life!
Next year I'll make it even better!
You'll see!
Mwahahaha~!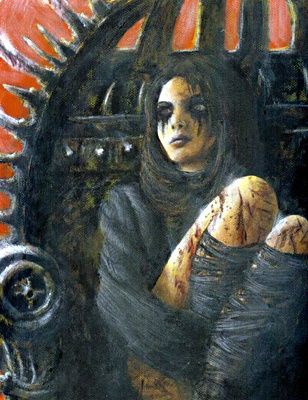 © Veronica N., Kenora, ON, Canada